News
Copenhagen's new street food mecca opens today
---
This article is more than 5 years old.
Take heart, street foodies, Reffen is up and running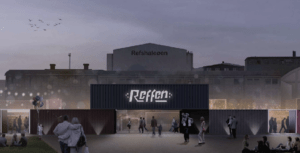 Today is opening day for Copenhagen's new street food location.
'Reffen' is located on Refshaleøen, and the opening will be a welcome happening for street food fans left hungry by the closure of the city's original street food location on Papirøen.
READ MORE: Island-hopping: Refshaleøen to succeed Papirøen as host of Copenhagen Street Food
Copenhagen Street Food, the same outfit that operated the Papirøen location, is in the process of renovating a 1,042 sqm warehouse known as 'Maskinværkstedet'.
Maskinværkstedet itself will open a bit later on, but the market square outside is now open with 54 stalls food stalls, workshops and bars.
There is a large outdoor area where guests can enjoy both their meal and a view of the harbour. Reffen can accommodate 1,150 guests. In total, Copenhagen Street Food now occupies an area over 10,000 sqm – three times the size of the previous site on Papirøen.
Food from around the world
Vendors at Reffen focus on offering organic and sustainable food and services. Even the stalls have been constructed as much as possible from recycled materials.
Designed with the intent to attract large numbers of both national and international visitors, the range of food is wide and covers most of the world from Italian polenta and Hawaiian ice cream to African specialties and much more. Prices for a meal are between 75 and 150 kroner.
READ MORE: Copenhagen ravenous for street food
Today's opening ceremonies start at 15:00 and will include a welcome from Copenhagen Lord Mayor Frank Jensen, live music and other entertainment.
After today, the food vendors will be open from 11:00 until 21:00. The bars open at 10:00 with last orders at 22:00, and the workshops are open between noon and 20:00.