News
Danish national intelligence agency struggling to find recruits
---
This article is more than 5 years old.
Demands of elite police unit may be too high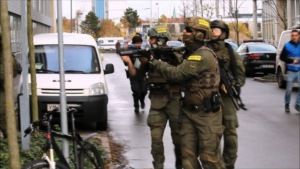 At a time when terrorism is considered a serious problem, the Danish national intelligence agency PET is having major problems finding recruits for its elite anti-terrorism group, the Aktionsstyrken (AKS) special intervention unit.
Claus Oxfeldt, the head of the Politiforbundet police association, believes the problems are due to the extremely high demands of the force.
"It is not something you can train for in a short period of time," Oxfeldt told DR Nyheder. "There is an urgent need to find people for AKS and we have had trouble finding people who are physically able to join the force."
Oxfeldt does not think the requirements should be lowered. 
Solution not in the military
Denmark has historically maintained a tradition of a sharp division between the military and the police. So even though the need for new recruits is acute, Hans Jørgen Bonnichsen, the former head of PET, does not believe the solution lies in recruiting from the military.
"I hope no-one falls for the temptation of recruiting from elite military groups like Jægerkorpset or Frømandskorpset, which have the skills required by the AKS," he said.
READ MORE: PET: Terror threat in Denmark still serious
"There is no place in a developed democratic society for a paramilitary police force. Military people are educated for war and to kill people."
PET mum
The inadequate recruitment numbers are happening at a time when PET's Centre for Terror Analysis considers the terrorist threat to Denmark to be serious.
Bonnichsen disagrees with Oxfeldt and says that PET should look at the possibility of lowering the requirements for AKS.
PET would not disclose how large a problem there is with recruitment or how many recruits it is missing.