News
Online game 'Fortnite' taking Danish kids by storm
---
This article is more than 5 years old.
'Free' game could wind up emptying parents' pockets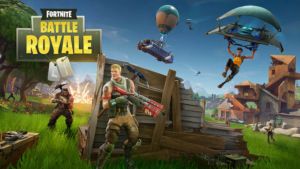 The online game 'Fortnite' has captured the imaginations and screens of children around the world, and Denmark is no exception.
Developers Epic Games and People Can Fly from the US said that the game now has 40 million users worldwide. Kids playing the game are known to sit in front of their screens for hours on end. In February of this year, the game had a record 3.4 million users online at the same time.
In 'Fortnite', 100 players are left on a desert island by a plane and must fight to stay alive until only one is left: a kind of online 'Hunger Games' or 'Battle Royale'.
Fun and silly
Kids like the game for its fun, silly and offbeat sense of humour. It features bright, cartoon-like graphics and loads of ridiculous items and costumes, such as space suits and dinosaur outfits.
It's possible to team up with a friend, or group of friends, and compete as a duo or a squad. This adds a social element, and participants are able to chat as they play using headsets and microphones. Many children are now forming Fortnite teams and spending a lot of their free time playing and practising the game together.
READ MORE: Denmark gets first professor of computer gaming
The game changes constantly, with a new round starting every 15 minutes, and developers regularly come up with free updates for the game so it constantly evolves.
When is free not free?
'Fortnite' is popular in part because it is available on several platforms and free to play, which means kids don't necessarily need to ask parents to purchase it. Epic Games makes money by selling players customised attire for their avatars and other items.
This means that if a child can settle for generic attire, they can play 'Fortnite' for free. But as much as 5,000 kroner in extra costs can be incurred if a kid wants to have all of the whistles and bells.
One player said that none of what he called "cosmetic purchases" gave a player an advantage when playing the game, so most of his friends didn't bother with them. The game's developers earned over 8 million kroner in February alone.