News
Drugs trade still flourishing in Christiania despite repeated police crack-downs
---
This article is more than 5 years old.
Trying to stop the sale of cannabis and other drugs in the 'Free State' of Christiania is an uphill task for the authorities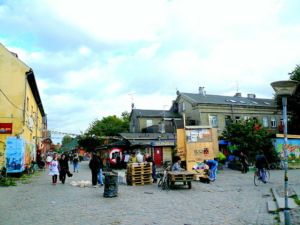 Copenhagen police conduct regular raids on Christiania's Pusher Street but despite this, the appetite for illegal drugs continues unabated.
If anything, it seems to be increasing. According to police, today there are 40-45 stalls selling drugs – which is actually an increase from the estimated 31 counted in 2014, reports Berlingske Tidende.
This year alone, police have confiscated 207 kilos of cannabis and 44,325 joints – as well as 2.7 million kroner in cash.
A cry for help
However, the inhabitants of Christiania have not been entirely passive themselves and expelled the drug dealers for a short period in September 2016.
READ ALSO: Christiania standing tall as residents tear down Pusher Street
Yesterday, barricades were set up at the main entrance to Pusher Street, as well as at the seven other entrances to the street. The barricades were described as "a sort of hedge covered with black cloth so that you can't see into Pusher Street," by a DR journalist on the scene.
Lawyer Knud Foldschack who represents the Fund for the Free State of Christiania, which is the legal owner of the area, said that this action had been taken to show the frustration felt by the residents.
"The blockade is a signal that we can't solve this problem ourselves. We can neither solve the growing gang problem nor the one of increasingly aggressive policing," said Foldschack to Berlingske.
So far this year, police have carried out around 100 raids – almost one per day. This includes clearing stalls, raids and other actions targetting buyers and sellers. Earlier in May this year, deputy inspector Lars-Ole Karlsen revealed that the police had arrested 148 people since the beginning of the year and that 58 were still in custody.
Jolly spliffing
One mooted solution is decriminalising some drugs and a number of politicians, most recently Socialdemokratiet's Henrik Sass Larsen, have been arguing for legalising the cannabis market.
This view has been held by Enhedslisten for some time. The party's legal spokesperson Rosa Lund welcomed Sass Larsen's recent initiative.
"For a long time now we have been arguing for a controlled cannabis market. I know this [legalisation] is not Socialdemokratiet's policy but one can only hope that it might become so. In any case, we welcome the idea of cannabis being legalised," said Lund.