News
Denmark sets aside millions for mine-clearing in Syria
---
This article is more than 5 years old.
Raqqa remains heavily mined following ousting of IS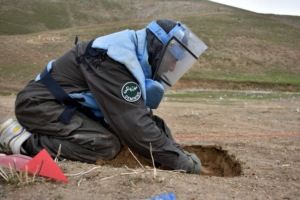 The government has agreed to dedicate 30 million kroner to help ongoing efforts to clear mines from the Syrian city of Raqqa.
The city, a stronghold of Islamic State up until October 2017, remains heavily mined in the wake of the jihadist organisation being ousted by the allied forces.
"A massive clearing up and stabilisation job is waiting in Raqqa," said Anders Samuelsen, the foreign minister.
"The new Danish mine-clearing contribution will help improve security in Raqqa so basic infrastructure can be established, the dispersed Syrians can return home, and aid organisations can gain access to the city."
READ MORE: Denmark earmarks millions to crisis in Syria
Lurking danger
Before fleeing Raqqa, the IS mined much of the embattled city's infrastructure, including hospitals and schools.
Last year, Denmark supported mine-clearing in Raqqa with 15 million kroner in aid.