News
Petition calls for FIFA to postpone World Cup for injured Nicklas Bendtner
---
This article is more than 5 years old.
Thousands have flocked to the most gallant of causes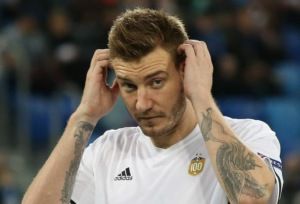 Late last night, Denmark's coach Åge Hareide must have suffered a minor heart attack when Lord and legend Nicklas Bendtner came off injured in a game for his club Rosenborg with the World Cup in Russia about to kick off.
But just as fans in Denmark, and from around the world for that matter, woke to mourn bitter tears of dismay into their morning coffee today, a bit of good news has surfaced.  And it might just save the World Cup.
Just hours ago, a petition has emerged that urges the global football governing body FIFA to delay the World Cup until Bendtner is fit again.
"We are not unreasonable. We understand that injuries are commonplace in football and that Bendtner is only human. So what we propose is not cancelling the World Cup but merely delaying it until such a time that Nicklas Bendtner is able to compete in it," wrote Soccer Memes, which is behind the petition.
"We are also open to the idea of enforcing a rule that would see all players forced to play on one foot (whichever one Bendtner did not injure) so as to allow him to compete."
READ MORE: Denmark whittles down World Cup squad
My kingdom for a Lord
So far over 2,000 people have signed the petition, which initially set a modest target of reaching 2,500 signatures.
Bendtner, and therefore Denmark, hasn't taken part in a World Cup since 2010, and given that the Great Dane has turned 30, it's likely Russia will be his last chance.
Can the Lord count on your allegiance? Then kneel, good sir fan, and ink thy name beneath his banner.