News
Political majority behind strategy for greater integration in Copenhagen's school system
---
This article is more than 5 years old.
Bilingual children should be spread more when it comes to schools and institutions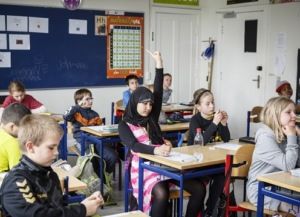 Statistics show that bilingual children often don't do as well in the public school system as ethnic Danes.
READ ALSO: Immigrant pupils lag behind ethnic Danes at school
A majority on Copenhagen Municipality's children and youth committee wants to see more mixing when it comes to institutions and schools so that non-Danish children come into contact with ethnic Danes more.
One of the problems identified is that a number of bilingual children come from homes with social problems, so the schools and institutions are obliged to help by providing the support that parents are unable to give. This is a considerable drain on resources if there are many of them at the same school.
No to bussing
In a press release, the local councillors also emphasise that the solution is not bussing children around the town to reach the goal of ensuring the number of bilingual children in a school or institution is roughly 33 percent.
"The idea is to give all children the strongest possible cards in their hand for their future," said Jesper Christensen, the deputy mayor for children and youth.
"On average, bilingual children leave school with grades that are far too low and are a long way behind their ethnic Danish counterparts. This calls for schools of an even higher quality – and also that we are able to influence which schools and institutions the bilingual children go to. That way, we can offer education of the same high academic quality to all children."
Meet Danes, absorb values
Research has also shown that when there are a large number of bilingual children at a school, it impacts on standards, partly because expectations are set too low and also because the school lacks the ability to raise them.
"It is absolutely vital that children with bilingual backgrounds come into contact with the Danish language and Danish values as soon as possible," said Jens-Kristian Lütken, a committee member from Venstre.
"That doesn't happen if they go to schools and institutions where there are pretty much only children with non-Danish backgrounds."
Copenhagen has far more bilingual children than the rest of the country, so the matter is deemed an urgent one.