News
Copenhagen bridge delayed by accident in Rotterdam
---
This article is more than 5 years old.
A bridge too far, perhaps?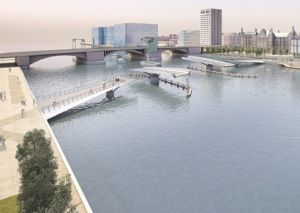 Lille Langbro, a new harbour bridge for pedestrians and cyclists planned to connect Christianshavn to the area by the new Blox building, has been hit by a stroke of bad luck.
The four spans of the bridge are being produced by the Hollandia BV company in Rotterdam, and when one of them was being loaded onto a barge, the crane lifting it broke and it fell onto one of the other spans already on the barge, reports Ingeniøren.
Two people were slightly hurt.
One in a million chance
"We were lucky there were no serious injuries, but it was terribly back luck. A crane snapping! That's something that you always insure yourself against, but that never happens," said Peter Cederfeld, the administrative director of Blox.
READ ALSO: Copenhagen's bike bridges a runaway success story
The spans, which have taken over a year to build, were 3D-scanned to assess the damage in the accident and have now been totally written off.
Cederfeld doesn't know when new spans will be ready. "There is some uncertainty as to how long it will take to get new steel. We can't just reuse the steel from the old spans," said Cederfeld.
"We are expecting a schedule from the suppliers in the next one to two months, but until we get that, we can't predict when the bridge will be ready."