News
News in Digest: Cutting the ice despite early hockey exit
---
This article is more than 5 years old.
Denmark misses out on the last eight of the World Championships, but enjoys success as the host nation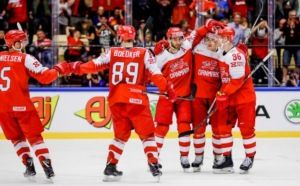 Dansk Erhverv, the local chamber of commerce, has hailed the recently-concluded IIHF World Championships in ice hockey as "a dream event for Denmark as a host country" – praising the sale of more than 350,000 tickets, of which half were sold abroad.
The winner Sweden, which defeated surprise package Switzerland in a pulsating shootout in the final on May 20, accounted for 16 percent of the total, as thousands more yellow-shirted fans made the journey over to watch the games in Copenhagen's bars.
The chamber was particularly impressed as just two already-established venues – Copenhagen's Royal Arena and the Jyske Bank Boxen in Herning – hosted the 60 games, leaving no white elephants behind to accumulate debt.
Some serious scalps
Despite not making the quarter-finals, and eventually finishing 10th, Denmark can look back at a successful tournament in which it beat traditional heavyweight Finland 3-2 and also Germany recent finalists at the Olympics.
In the end, five of Denmark's seven NHL players took part – Frans Nielsen, Mikkel Bødker, Jannik Hansen Oliver Bjorkstrand, Frederik Andersen – but it is worth noting that all of its outfield players are offensive.
A 0-1 defeat in the final group game to Latvia broke Danish hearts, although there was some consolation in Frederik Andersen, who finished the tournament as the second best stopper with a 94.38 percent save ratio, being named Best Goaltender.
Stanley Cup hopes
It is doubtful therefore whether the presence of Lars Eller and Nikolaj Ehlers, who were both involved in the Stanley Cup Playoffs, would have made much difference.
Eller last week became the second ever Dane to make it to the Stanley Cup Finals with the Washington Capitals, which began on Monday against the Vegas Golden Knights.
The center, who has notched up 13 points in 19 playoff games, will be hoping to go one better than Jannik Hansen, who missed out with the Vancouver Canucks in 2011 in a tough game-seven loss to the Boston Bruins.