News
Culture News in Brief: City warns Distortion that noise violations could jeopardise future permits
---
This article is more than 5 years old.
In other news, there are no such concerns about future Maria Carey and Rick Astley concerts, or Björk's appearance at NorthSide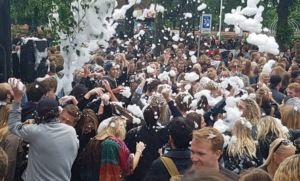 The Distortion street party festival, which concluded on Sunday after five days of  action, exceeded noise levels agreed in its permit, according to tests carried out by Copenhagen Municipality, which has warned this might jeopardise future festivals.
The municipality conducted 50 measurements on each day of the street festivals in Nørrebro and Vesterbro on May 30 and 31 and found that 30 to 40 percent were over the legal 80 decibel limit permissible at city residences (the limit at public squares is 60).
On the streets, measurements tended to range from 90 to 102 decibels, and a number of concerts were discontinued as a result of the excessive noise.
Fundamentally unsatisfactory
Rikke Hvelplund, the head of the municipality's Center for Miljøbeskyttelse, told DR that the measurements contravened the festival's permit agreement and that the findings are "fundamentally unsatisfactory".
She indicated the results could jeopardise future permit applications.
"It's too early for me to say what the consequences will be," she said. "It's a question of what they will want next time, so we will have to wait and see."
---
Honestly, we're not Rickrolling you! He really is returning
Rick Astley is returning to his second home to give a concert at Vega on September 23. Astley, whose wife is Danish and whose daughter was brought up here, lived in Denmark for many years in between finding worldwide fame in the late 1980s and re-emerging this century on the back of some new tracks and the trend of Rickrolling – a link promising an explosive video that turns out to be one of him singing. Tickets cost 420 kroner and go on sale on Friday at 09:00 via livenation.dk, vega.dk and ticketmaster.dk. Denmark is 'never gonna give you up', Rick!
Nobody does Christmas like Carey, but best to leave her out on New Year
Mariah Carey is bringing her 'All I Want For Christmas Is You Tour' to Royal Arena on December 4. Carey of late has been branching out into other industries, with acclaimed roles in films such as 'Precious', but maybe her foray into directing with last year's  'A Christmas Melody' has persuaded her she ought to stick to the music – even if she did get caught out on New Year's Eve 2016 in an embarrassing lip-synching performance at Times Square. Tickets cost 420-750 kroner and go on sale at 10:00 tomorrow at livenation.dk and ticketmaster.dk.
Finally a completed Olafur Eliasson building in Denmark
The world-famous Icelandic-Danish architect Olafur Eliasson is a big name in this country, but he had never completed a building here until now. His team at Studio Olafur Eliasson recently confirmed they had completed work on the Fjordenhus in Vejle, the new HQ for business and investment firm Kirk Kapital. Built on Vejle Fjord next to the city centre, it has been designed to reflect the natural and industrial environments it straddles. It is due to open on June 9.
Music power couple declare war on Norwegian publication
The Tidal music service – which is partly owned by Beyonce and Jay-Z, and also Kanye West – has warned Dagbladet that it intends to take legal action following the Norwegian newspaper's publication of leaked files that showed the provider allegedly manipulated its playback numbers.
Rushdie well monitored at Heartland; stars keenly anticipated at NorthSide 
Two police drones circled the Heartland Festival at Egeskov Castle on Funen as the author Salman Rushdie made an appearance on Saturday. A sizeable contingent of officers were present as a deterrent to any attack in connection with the fatwa issued in response to the publication of Rushdie's book 'The Satanic Verses' in 1988. Meanwhile, in other festival news, NorthSide is due to open on Thursday for three days of music – hopefully with better weather this time. Among the headliners are Björk, Liam Gallagher and Queens Of The Stone Age.