News
Bundesliga giant on the brink of signing Delaney for record fee
---
This article is more than 5 years old.
Thomas not the only Danish midfielder in the news, as Christian Eriksen has become a father and can now return to the national team's training fold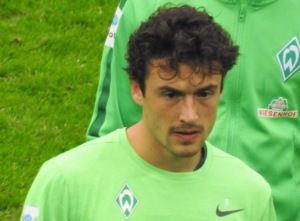 With the World Cup in Russia just around the corner, a certain player was missing from the Danish training camp today.
According to tabloid Ekstra Bladet, inspirational midfielder Thomas Delaney has flown to Germany to finalise a move from Werder Bremen to Bundesliga giants Borussia Dortmund – a deal that will smash the Danish transfer record.
The transfer is estimated to be worth around 150 million kroner and the 26-year-old will be handed a four-year contract with the Black and Yellows.
READ MORE: Denmark and Peru in special love affair ahead of World Cup clash
Champions League bound
At least five Premier League clubs were reportedly vying for Delaney's signature, but the former FC Copenhagen captain chose to stay in Germany, where he has enjoyed much success since his move to Werder Bremen last year.
Should the transfer go through, Delaney can look forward to participating in the Champions League with Dortmund, fourth-placed finishers in the Bundesliga last season.
Denmark coach Åge Hareide praised the move, calling it a clear step-up and a boost for Delaney and the national team as well.
Eriksen a dad
In related news, Danish fans exhaled a collective sigh of relief today after it emerged that Christian Eriksen's wife had given birth to a boy earlier this week.
Eriksen had missed the previous friendly against Sweden and there were concerns he might miss the opening game against Peru on June 16.
The doubly joyous news means Eriksen is expected to return to the national team's training fold today and be ready to face Mexico in Denmark's final pre-tournament friendly on Saturday.