News
International News in Brief: Denmark co-hosts top-level Myanmar conference
---
This article is more than 5 years old.
In other stories, backers wanted for a Danish UN museum and Denmark lends a helping hand in NATO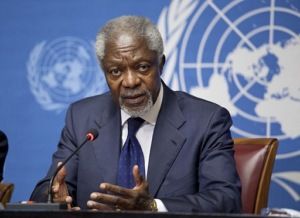 August last year saw 700,000 ethnic Rohinga being forced to flee from Rakhine in Myanmar to neighbouring Bangladesh. Just prior to that the Rakhine Commission headed by former UN Secretary General Kofi Annan produced a number of recommendations designed to tackle the problem.
Last Friday, under the joint auspices of the Danish government and Kofi Annan, members of the commission, representatives from the UN and the government in Myanmar and other experts met in Copenhagen.
"There is a long way to go, but Denmark is ready to support the government in Myanmar along with international partners and aid organisations to find sustainable solutions to the long-running conflict in Rakhine," said Ulla Tørnæs, the Danish minister for development co-operation.
---
Ban Ki-moon seeks backing for museum
Former UN Secretary General Ban Ki-moon is in Denmark trying to drum up support and funding for a UN museum in Copenhagen. As the idea was conceived in Denmark, it is felt that it would be fitting the museum ends up there, reports DR Nyheder. Around 2 billion kroner is needed in order to realise the project, and this should primarily come from Danish funds and companies. If it is not possible to raise the money, the museum might end up in another country. UN Live Museum Association, the organisation behind the project, wouldn't disclose how much had been raised so far, but said that they were "working flat out to raise the remaining funds".
Denmark to help set up new NATO mobile HQ
Three countries – Denmark, the Netherlands and Belgium – have been tasked with building a new mobile operations headquarters for NATO that can be deployed anywhere it is needed. On Thursday during the meeting of defence ministers in Brussels, Claus Hjort Frederiksen signed the agreement on Denmark's behalf, reports DR Nyheder. "The new headquarters is completely in line with our recently agreed defence initiatives to strengthen the area of special operations," said Frederiksen. "I'm very happy that we've taken another step in attaining our goal of providing necessary capacity to NATO."
Danfoss making inroads on Chinese market
Competition on the Chinese energy market is fierce; it is one of the worlds largest and there are a number of home-grown firms in the running as well as international ones. Danish company Danfoss has been able to garner support from the government in the shape of the energy and climate minister, Lars Christian Lilleholt, reports Berlingske Business. The minister has just opened a brand new Danfoss factory in Anshan, north-eastern China that makes components for district heating systems. The factory is well placed to meet the requirements of China's latest five year plan, which includes a commitment to making the energy sector more effective.