News
Let nature take its course when it comes to most eye infections, researchers urge
---
This article is more than 5 years old.
Resistance to antibiotics is a growing problem and nearly everyone agrees that we should be using less of these drugs if they are to retain their effect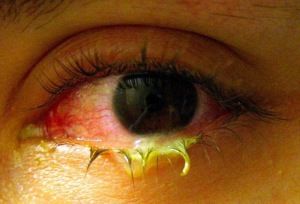 Most parents will recognise the symptoms: their child wakes up with eyes glued together with pus and their eyes are red and itching. The temptation is to call the doctor as soon as possible to get something to treat the complaint, because otherwise they might not be able to drop their child off at an institution.
Danish doctors are very generous when it comes to prescribing antibiotics for children's eye infections compared to their Nordic neighbours.
Researchers from the eye clinic at Glostrup Hospital have just published a study revealing that from 2000-2015, Danish children 0-4 years old were prescribed 271,980 courses of antibiotics for eye complaints such as infectious conjunctivitis, reports DR Nyheder.
That figure equates to 210 children out of every 1,000 being given drugs. The equivalent figures from Sweden and Norway are 50 out of every 1,000 and 150 out of every 1,000 respectively.
Wait and see
However, it seems as if much of the prescribed medicine is unnecessary.
"The vast majority of eye infections amongst children are not harmful and go away by themselves in a couple of days, so antibiotics are superfluous," said Jasmine Andersson, a doctor and PhD student responsible for the study.
READ ALSO: Ordinary infections don't damage young brains, study shows
Infectious conjunctivitis is caused either by a virus or bacteria, and mild forms are no more catching than a cold. Also, antibiotics don't have any effect on the form caused by a virus.
Just coping in the busy working day
So why does Denmark stand out when it comes to treatment methods? One reason could be because parents feel they can't drop their child off at an institution if the child has conjunctivitis.
However, Andersson emphasises that in the general guidelines for institutions, there are no requirements for the child to be undergoing treatment unless it a serious case.
"It appears there is a fundamental difference in the perception of the nature of the problem," said Anders Beich, the chair of the Danish college of general practitioners.
"This could be both with regard to doctors and patients, but also at the institutions where the children are looked after – and also society in general, which sets the norms for family life where families with children are under pressure," added Beich.
Beich adds that institutions should be made more aware that conjunctivitis is no more infectious than a cold. He also feels that things are changing as the trend is already to prescribe fewer antibiotics to small children.