News
Danish News in Brief: Still no hard evidence for the existence of 'Nessie'
---
This article is more than 5 years old.
In other stories, Danish footballer in hot water in Monaco and man arrested in Bakken for drug selfie with PM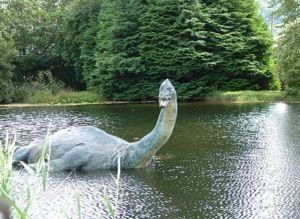 Over the past few weeks an international team of researchers, including Kristine Bohmann from the Danish Natural History Museum, have been plumbing the depths of Loch Ness to try and find out what creatures actually live in the loch.
DNA samples have been taken from the water along the banks of the 40 km long loch and from various other places further out, but the legendary monster has proved elusive, reports TV2 Nyheder.
Even if the DNA samples can't provide any evidence for the existence of 'Nessie', the team hopes their work might still be useful. "We're going to carry out a DNA-based investigation to map life in the loch. We might find something that could explain what it is that has got people believing in the myth of a sea monster," museum employee Tom Gilbert told Ingeniøren.
The water samples are being sent to the UK where the DNA is going to be extracted. The extracted material will end up in France for analysis and sequencing. The results can then be compared with a reference data base in order to compile an overview of what species are found in the loch.
---
Danish footballer sentenced in Monaco
The 30-year-old former Danish international Nicki Bille has been sentenced to one month's imprisonment for violent and indecent behaviour in Monaco. Bille allegedly punched a woman who was trying to stop him from holding his girlfriend in a stranglehold in a bar. Later on the same evening he was arrested for possessing cocaine, reports BT. On his phone, police found images of a sexual nature, including a video of oral sex on one of Monaco's boulevards that the judge found 'inappropriate'. As well as the jail time, Bille was fined 5,500 kroner and will have to pay 22,000 kroner in compensation. In his defence, he said he was drunk. Bille has previous convictions for biting a policeman's arm and violent behaviour in 2015 and 2009 respectively.
Man arrested for drug clowning with PM in selfie
On June 6, during a trip to Bakken to see Cirkusrevyen, Denmark's PM Lars Løkke Rasmussen was asked to pose for a selfie by two men. One of the men pulled out a bag apparently containing drugs and held it over the PM's head, BT reports. Later the same evening police detained one of the men and he has now been charged with the possession of a small quantity of drugs and contravening the Danish drug laws.
Special armband to get up close at Roskilde
This year's Roskilde Festival sees the launch of a new armband system for fans who want to stand right up in front of the Orange Stage. Previously, if you wanted to ensure a prime place you often had to stand in a long queue all day, reports DR Nyheder. The festival is also rearranging the area in front of the stage. From now on, there will be two rear enclosures with a capacity for 10,000 people and a pit in front with space for 3,000, where you need the special armband to get in. The armband is valid for one concert only and can be collected from 10:00 on the morning of the desired concert on a 'first come, first served' basis.
Post Nord to sack 2,500 workers
The EU has agreed to Danish state money being used to subsidise Post Nord in the second round of its restructuring campaign. From 2017-2019 the postal carrier is set to lose around 4,000 jobs and some 2,500 of these are full-time ones, reports DR Nyheder. Post Nord has had to ask for state funds because many of the employees who will be fired are so-called 'tjenestemænd'. These workers have been employed under a contract that has been prevalent in certain arms of the state, which essentially means it is impossible to sack employees before their pension age in return for them giving up the right to strike.