News
Airliner forced to make emergency landing at Kastrup
---
This article is more than 5 years old.
Elsewhere, new routes established from Copenhagen to Hong Kong and Jordan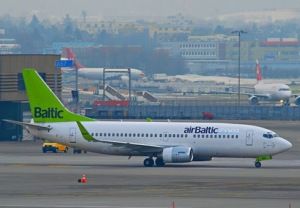 A Boeing 737-300 from the budget airline Air Baltic that had taken off at 16:30 from Riga had to make an unscheduled landing in Copenhagen on Wednesday afternoon.
The aircraft was flying to Amsterdam and had the capacity to carry around 150 passengers, reports BT.
A false alarm
During the incident the alarm was upgraded from a Standby 1 to a Standby 2 landing which meant that in addition to the airport's own fire service, personnel from Tårnby fire station and a number of ambulances were sent to the scene.
"It was a faint smell of smoke in the cabin that prompted the captain to make an emergency landing," said Sara Emborg, a Copenhagen airport press spokesperson.
After a thorough search of the aircraft had been carried out, it was clear that nothing was amiss after all.
New routes to open
In related news, a new route is set to open in November from Copenhagen to Aqaba in Jordan. Norwegian will be offering direct flights to the Red Sea port.
Besides being an attractive beach and diving destination in itself, tourists can venture further to the Roman ruins at Jerash and the antique city of Petra.
Norwegian will be using Boeing 737-800s on the route, with a capacity of 186 seats. Flights will take off every Thursday from November 1.
SAS to Hong Kong
Not to be outdone, yesterday SAS announced that the company was moving its departure airport for Hong Kong from Stockholm to Copenhagen.
The route will fly all the year round with 5 weekly departures from Copenhagen. The first aircraft is expected to take off on October 28.
From next summer there will be two airlines flying to Hong Kong – SAS and Cathay Pacific.