News
The venues you Moscow to if you love the global game
---
This article is more than 5 years old.
Tivoli, Parken and the DBU to the rescue following the withdrawal of Islands Brygge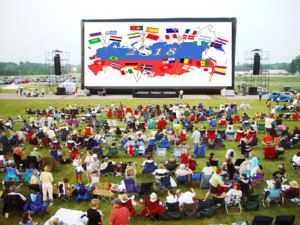 Oh, those long halcyon evenings, luxuriating on the grass watching football with takeouts and substances normally taken home!
With the 2018 World Cup just around the corner, Islands Brygge is the name on everyone's lips – a collective second home for the ensuing month.
Islands bugger
What's that? Islands Brygge won't be showing any games? Say it isn't true.
It's all thanks to the government's equitable distribution policy to relocate jobs away from the capital, as DR Sports has been moved to Aarhus.
Tak Tivoli
So this year, no daily big screen option exists, leaving football fans with a just a few outdoor crumbs to choose from. Denmark vs Peru (June 16), for example, will be shown at Parken, where entry will be free.
Tivoli has plans to show 21 games, with free entry for the first 10,000 pre-ordered tickets for Denmark vs Australia (June 21). Other featured games include England vs Belgium (June 28), Germany vs Sweden (June 23), and seven knockout games.
And an official DBU Tour will visit the country's main cities, showing games at Stændertorv in Roskilde (June 15-16), Axeltorv in Helsingor (July 6-7), Torvet in Køge (July 10-11) and an unspecified location in Copenhagen, probably Rådhuspladsen (July 14-15).
Teglværket in Sydhavn (Teglholmsgade 27) and the Hop House in Amager (Amagerbrogade 160) are also showing many of the games on a big screen.
Best of the rest
All this means that the need to find a suitable location is greater than ever, so fortunately CPH POST has been busy putting a list together of the best bars, restaurants and other venues to catch the games.
Boys from brilliant Brazil
Allegade 10, Fredericksberg; allegade10.dk
If you're pinning your hopes on Neymar and the boys from Brazil, and like the country's famous barbecue, then Allegade 10 is the place to check out. With large screens in support and outdoor foosball tables, when the passion grabs you, this might be the best family restaurant option in the city to take the family.
Tyrolean triumphant
Heidi's Bier Bar, Vestergade 18, Cph K; heidisbierbar.dk
If you're backing the defending champions, this German beer bar is the place to be. Complete with dirndls and steins galore, and staff dressed in genuine Tyrolean style, you can even pour pints at your table out of large barrels in the wall – what better way to celebrate a goal or seven?!
Escape artists England
Old English Pub, Vesterbrogade 2B, Cph K; Cafe Osborne, Elmegade 23, Cph N
Relive the glory of 1966 at the Old English Pub in the city centre where you can celebrate or drown your sorrows thanks to a wide selection of malt whisky, blends and bourbons. Or why not check out Osborne's Bar on Elmegade in Nørrebro where impromptu kazoo renditions of the theme tune to 'The Great Escape' are a regular feature at major tournaments.
Mikkeller's gone Mexican
La Neta, Nørrebrogade 29, Cph N; mikkeller.dk/location/la-neta
If you're supporting Mexico… or just really want a good margarita, La Neta has you covered, with projectors showing the Mexico games and great deals on beer, margartias and more! Not only that, but this is a Mikkeller Brewery establishment, so good beer is guaranteed!
Japanese joy either way
Jah Izakaya and Sake Bar, Ravnsvorggade 16B, Cph N; jahizakaya.dk
This modern, sleek restaurant and bar in Nørrebro is the perfect place to cheer on the Japanese if you're looking for good quality food and high quality alcohol. Dubbed as 'Japanese soul food', Jah Izakaya is not only showing the Japan games, so you have no excuse to not try their tasting menus – regardless of your team.
Amaze us Australia!
Southern Cross Pub, Løngangstræde 37, Cph K; southerncross.dk
Chasing the sun? If you're unfortunately rooting against the Danish home team in Group C, seek solace in the Southern Cross Pub and cheer on the Aussies. With plenty of screens to keep you occupied and happy hour prices every day until 20:00, the Southern Cross will keep you happy right up until the final whistle.
Inspired by Iceland
Nordatlantens, Brygge Strandgade 91, Cph K; nordatlantens.dk
What better way to watch Iceland than sitting by the canal enjoying the games on a big screen? We defy you to clap along to the famous Icelandic rhythm whilst holding the food and beer on offer at Nordatlantens. Master that and anything will seem is possible for these outsiders.
Do it like the Danes
Pool Pub Copenhagen, Rentemestervej 67, Cph NV; poolpub.dk
Pool Pub does a mean spread for the Denmark games, where you can squeeze in a couple of games of pool at half-time and enjoy an outdoor terrace opened in the summer. With plenty of space, it won't feel like you've entered a rush hour train to sample how the Danes like to support their national team.
Global at the Globe
The Globe, Nørregade 43-45, Cph K; the-globe.dk
If you just want to watch in English… and haven't decided on a team to support yet, check out The Globe Irish Pub. With eight screens and a large range of beer and bar snacks, this pub is a great place to come. Many nationalities organises trips here on meetup.com.