News
Culture News in Brief: Denmark to get first roof-top hotel pool
---
This article is more than 5 years old.
In other news, Nicki Minaj, Imogen Heap, Biffy Clyro and Ben Howard are among those announcing concerts in Denmark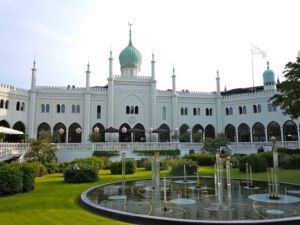 When Hotel Nimb at Tivoli opens its new 60 sqm bathing area next week, it will become the first hotel in Denmark to have a rooftop pool, reports BT.
The new 1,300 sqm roof terrace, which will seek to host future entertainment events and cater to a range of fitness requirements, will be officially opened on June 21.
Never before seen in Denmark
According to Tivoli press officer Torben Plank there will be a lot of surprises.
"It will set new standards that we have never seen before in Denmark," he said. "We're looking forward to showing it off."
---
Mads lands role as villain in Sony video game
Thanks to his starring role in the Carlsberg ads and a cameo in a Rihanna music video, Mads Mikkelsen is no stranger to taking a step outside his favoured medium of cinema. And soon his fans will be able to see him in the hyped video game called 'Death Stranding'. Designed by Hideo Kojima and produced by Sony Playstation, the Dane's exact role is unconfirmed, but judging by a trailer viewed at a recent Sony press conference in LA, he will be playing a villain. Now there's a surprise.
READ MORE: Danish bad guy Mads Mikkelsen completes the set with video game appearance
Nicki Minaj tickets on sale now
Nicki Minaj and Future are bringing their NickiHndrxx tour to Royal Arena on March 1. Tickets went on sale this morning at 10:00 at livenation.dk and ticketmaster.dk and start at 320 kroner. Also recently announcing forthcoming concerts in Denmark are Pouya (Pumpehuset; Oct 4; 230kr), Imogen Heap (Bremen Teate; Nov 23; 300kr), Biffy Clyro (DR Koncertsalen; Oct 6; 380kr), Magna Carta Cartel (Pumpehuset; Sep 30; 150kr), Gad Elmaleh (DR Koncertsalen; Sep 30; 275kr), Lower than Atlantis (Pumpehuset; Sep 12; 200kr), Ben Howard (Forum Black Box; Nov 24; 380kr). Meanwhile, due to the popularity of the first show, another performance of the popular podcast My Dad Wrote a Porno has been confirmed at Bremen Teater – this time on September 4, for which tickets cost 225kr.
Thumbs up from Future Islands
Danish fans have got a big thumbs up from the band Future Islands, who recently played at the NorthSide festival following appearances at Roskilde in 2014 and 2017 and Smukfest in 2015. "The crowd roared so much that the earth shook," keyboard player Gerrit Welmers recalled to DR about their first appearance in 2014. "It seems that the Danes are happy to party. Maybe I'm wrong, but I think you're down with it," added bassist William Cashion.