News
Science News in Brief: HPV vaccine a success story, new research reveals
---
This article is more than 5 years old.
In other stories, CO2 emissions in Denmark going up, another IT system delayed and over budget, and municipal schemes don't really help people on sickness benefits into jobs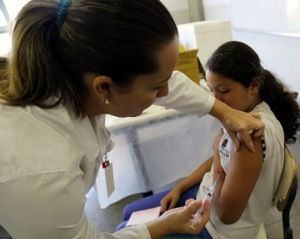 Getting vaccinated against the Human Papillomavirus (HPV) is a very good idea, a new study carried out by researchers from the University of Copenhagen shows. The study revealed a 40 percent fall in the number of women detected with cell mutations amongst those who have been vaccinated, reports DR Nyheder.
READ ALSO: HPV vaccine extremely effective in the long term, new study shows
HPV is a common sexually-transmitted infection that can cause cervical cancer. Figures from the cancer organisation Kræftens Bekæmpelse show that around 6,000 Danish women develop the primary stages every year, with 375 going on to develop full-blown cancer and 100 women dying from the disease.
The researchers followed the first wave of girls born in 1993 who received the vaccination as 15-year-olds. The girls were screened when they turned 23 and the results compared with a group who had not been vaccinated.
Even though the vaccine seems to work, screening is still recommended. "The vaccine does not give you 100 percent protection, but that can be enhanced by screening," said Elsebeth Lynge, a professor of epidemiology at the University of Copenhagen.
---
CO2 emissions in Denmark set to rise
Despite the government's green energy policies, a confidential note to the parliamentary parties shows that total CO2 emissions could actually increase by 5-10 percent up until 2030, reports Politiken. One problem is that a number of tech giants are opening data centres in Denmark over the coming years, and all of them will use massive amounts of electricity. Cowi and Energistyrelsen calculate that a typical data centre can increase Denmark's electricity consumption by 4 percent. On top of that, the government proposes lowering the tax on electricity, which will also increase emissions because coal-fired electricity generation will first be phased out in 2030.
Defence Ministry computer system delayed and over budget
An ongoing IT project developed by IMB for the Danish Ministry of Defence is proving a lot more expensive than planned as well as being delayed, reports Version2. The system is designed to plan the work schedules for 24,000 employees, including things such as holidays and working hours. However, including the 800-odd regulations that govern union agreements has proved more complicated than previously thought. Since 2014 the budget has ballooned from 39.7 to 102.8 million kroner and the system is already four years delayed and counting.
Some people are just too ill to work
Successive Danish governments have implemented various rules and schemes to get people on sickness benefits back into the employment market. These range from courses and re-education to subsidised jobs and internships. A new Danish study concludes that none of these really work to any great extent, reports Videnskab.dk. The study followed almost 90,000 unemployed people on sickness benefits from 98 municipalities for three years. The results revealed that around one-third ended up in employment. This is about the same success rate that would be expected if the schemes were removed, the researchers concluded.
Digital twins set to revolutionise maritime sector
Denmark's shipping companies are becoming more and more digitally-conscious and things like digital twins – in this case, computer copies of real ships – can potentially pay big dividends, reports Ingeniøren. Data on a ship is saved right from the design phase until it is scrapped and can be shared during the ship's life-cycle. This can be used to plan maintenance, optimise fuel consumption and test the effects of constructional amendments. "Through digital twins and the continual collection of data, there is a greater chance to optimise the running of a ship throughout its lifetime," said Mogens Schrøder Bech, a senior consultant at the Danish maritime authority Søfartsstyrelsen, who has authored a report on the possibilities with the assistance of DNV GL.
Odense at least a century older than previously thought
A new scientific paper written by a team from Odense City Museums based on archaeological evidence reveals that the Danish city of Odense is at least 100 years older than its traditional 'birth certificate' date of 988. The settlement seems to have started there around the end of the 8th century, but it did not really become a city until around 900. Previously it was thought that Danish cities developed in two independent 'waves'. The first wave in the 8th century included the cities of Ribe and Hedeby and a second wave of royal cities started in around 1000. During the research it became clear that in the ninth century a number of other cities, including Odense, were founded that formed a bridge between the two waves of city building.