News
Danish News in Brief: Terror attacks on the increase, but methods becoming less sophisticated
---
This article is more than 5 years old.
In other stories, Danish motorways play host to wrong-way drivers and skateboarders, and a wild elk is spotted in north Zealand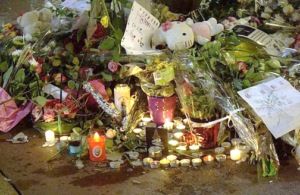 A report from the European police co-operation organisation Europol reveals that the number of terrorist attacks in Europe has gone up dramatically. In 2017 there were 33 attacks that failed, were prevented or were carried out – as opposed to 13 in 2016, reports DR Nyheder.
The report also reveals the methods being used are becoming cruder: favoured weapons are often items close to hand such as knives or cars. The intention is usually to scare the population and the targets are often the police or soldiers.
"The most recent attacks have been orchestrated by so-called 'home-grown terrorists' who have been radicalised without having travelled or joined a terrorist group," the report states. "Most have no direct links to any jihadist organisations."
Last year, 62 people died as a result of Islamic terrorist attacks in the EU and 819 were injured. France has managed to thwart nine out of its last 11 attacks and the UK also nine, Europol reports. The report does not say how many attacks have been thwarted or carried out in Denmark. The latest figures show that 14 people were arrested and charged under the terrorism laws last year.
---
Wrong-way driver in motorway accident
An accident took place on the motorway between Eskildstrup and Nørre Aslev on Falster yesterday when a wrong-way driver collided with several cars in the southbound lane. Three ambulances and five police cars were sent to the scene and the motorway was temporarily closed in both directions, reports DR Nyheder. Police in southern Zealand have revealed that the driver and two other people have been taken to hospital. "There are no serious injuries. I don't know the exact details, but nobody has been really badly hurt," said duty officer Henrik Karlsen. The police don't yet know why the driver was going in the wrong direction.
Skateboarder on motorway
To the astonishment of passing drivers, a young Russian man was found on the E45 motorway near Rødekro riding on a skateboard in a southerly direction at around 20:00 last night. The police were called and they explained to the man that he was on a motorway, and skateboarding was prohibited, reports DR Nyheder. A patrol car drove him to the next exit. "We often find foreigners on the motorway. Maybe they come from places where there aren't many motorways," said a police spokesperson. "Ignorance of the law is no defence, but we usually let them off with a fine."
Elk spotted in Helsinge
On Thursday evening a woman from Espergærde was driving to work on Helsingørvej north of Helsinge in northern Zealand when she suddenly spotted a large animal in a field. She was able to take a video of it on her mobile phone (watch the video here) and it turned out to be an elk, DR Nyheder reports. A number of elks have been released in nature reserves in Denmark, but it is uncommon that they find their own way here. The last verified wild elk sighting was in 1999, but there had been rumours of an elk in the Helsingør area in 2001, 2010 and 2012. The Danish nature agency Naturstyrelsen has confirmed that the animal in the video is indeed an elk – probably a one to two-year-old elk heifer.
No further compensation for Palestinians
A group of 17 stateless Palestinians who were refused Danish citizenship and who have been seeking further compensation have had their claim denied, DR Nyheder reports. The Supreme Court has found that 10 of the cases were dealt with in accordance with the rules. Six of the others will be compensated 10,000 kroner by the Integration Ministry and the court does not see any reason to increase the amount. The final person's case was found to be outside the time limit, so no compensation was paid either. In 2016 seven of them received 20,000 kroner in compensation from the High Court. The 17, who are now all Danish citizens, had been seeking between 11,000 and 257,000 kroner in compensation.
And a side-order of botulism
A private dinner in Sønderborg for 11 people ended badly for some of them. Six ended up with botulism, a rare and potentially fatal type of food poisoning, reports DR Nyheder. Botulism starts with blurred vision, a feeling of tiredness and trouble speaking – unfortunately, drunkenness has similar symptoms – and may be followed by a weakness of the muscles, vomiting, swelling of the abdomen, and diarrhoea. Several of the diners were discharged quickly but two were transferred to intensive care. Botulism is treated with an antidote and it may be necessary to give fluid and nourishment via a drip if the person has difficulty swallowing. In serious cases patients can also be put into a respirator.