News
Danish News in Brief: EU proposes earmarking paternity leave for men
---
This article is more than 5 years old.
In other stories, upper-secondary school students' smoking and drinking habits in focus, and guided tours of DR available in English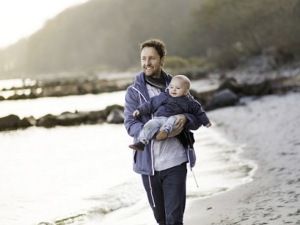 In future, two weeks of paternity leave could be extended to two months if the European Parliament adopts a proposed resolution. However, the employment minister, Troels Lund Poulsen, opposed the measure when it was debated recently in the Council of Ministers, reports DR Nyheder. Poulsen believes that it should be up to the individual family to allocate maternity/paternity leave as they see fit.
In 2016 a survey carried out by the Danish institute for human rights revealed that 21 percent of men in Denmark wanted more paternity leave. "As it is now, women take nine times as much maternity leave as men. From the point of view of equality, it would be a very good idea to have a more equitable distribution of the leave between mothers and fathers," said Kenn Warming, a consultant at the institute.
Earmarked leave encourages men to take more
Experience from other Nordic countries has shown that if the leave is 'earmarked', men have a tendency to take more time off. It is also a good way of helping them to develop closer ties with their children.
Warming is concerned that the debate is being diverted away from leave towards criticising the EU's role. "In the Danish debate, to a large degree it has been about whether you are for or against the EU and regulation. That has shifted the focus from the substance of the debate – namely, how important it is to get men to take more paternity leave," adds Warming. He would prefer to see Danish politicians coming up with a proposal for earmarked leave for men.
---
Drinking and smoking at upper-secondary schools spotlighted
In a joint letter, the Danish health authority Sundhedsstyrelsen and the association of Danish upper-secondary schools, Danske Gymnasier, have urged the country's upper-secondary schools to take an active part in defining healthy parameters for students regarding smoking and drinking. The organisations point to an unfortunate culture at several schools, reports DR Nyheder. "Unfortunately, we are seeing groups in upper-secondary schools who really drink a lot and it ought not to be them who set the agenda for the rest of the class," said Niels Sandø from the health authority. Schools are also being urged to go 'smoke free'.
DR offering guided tours in English
From July 5, English-speaking tourists will be able to get a glimpse of the inner workings of the state broadcaster DR though the medium of a guided tour. The tours will be in groups of up to 25 people and last 75 minutes. In the first instance, they will take place on Thursdays and Sundays at 11:30. For those who understand Danish and have children, from July 2 every day at 11:15 there will be a Ramasjang Mystery Tour on which children can help track down villains while they see the DR Byen. Adults can avail themselves of a 'behind the scenes' tour every day at 13:00, and DR Koncerthuset has tours on Saturdays and Sundays at 10:45.
Learn Danish if you want an allotment
A proposal has been submitted to the Karolinelund allotment association near Herning to the effect that if you want an allotment, you have to be able to understand and speak Danish. Apart from possibly contravening EU discrimination laws, it has also divided the members of the association, reports Avisen.dk. This is not the first time that Karolinelund has been in the spotlight. Back in 2016 they adopted a resolution that there could be a maximum of 25 percent of allotment-holders descended from races other than northern European and that these had to be able to speak and understand Danish. On that occasion, the resolution was removed from the statues shortly after being adopted.
Robbery at furriers in Nærum
Around lunch time yesterday, three men tried to rob a furrier in Nærum, north Zealand. Three of the employees were tied up by the would-be thieves but one managed to break free and call the police, reports DR Nyheder. Two of the robbers were arrested on the spot whilst a third was apprehended trying to flee the scene of the crime, a police spokesperson said. The three people arrested will be brought before a judge today to see whether there are grounds to detain them in custody.