News
Denmark to send soldiers to Iraq and the Baltics
---
This article is more than 5 years old.
News comes ahead of key NATO summit next month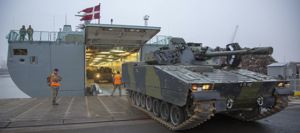 The government revealed today that it plans to send an additional 15 soldiers to Iraq to help train the local forces.
Following a Foreign Policy Committee hearing, the foreign minister, Anders Samuelsen, added that there were also pans afoot to deploy more troops to the Baltic region, though he would not specify how many.
"The government aims to contribute significantly in terms of the challenges involved with fighting terrorism in the south as well as the Russian aggression in the east, where we will have troops in the coming years in the Baltics," Samuelsen told TV2 News.
READ MORE: Denmark signs up to new military alliances
Brussels beckoning
Denmark currently has 217 troops stationed in Iraq under the flag of Operation Inherent Resolve, while an additional 200 are deployed in Estonia under the operational banner of Enhanced Forward Presence.
The news comes just weeks before the key NATO summit in Brussels on July 11-12, where the focus will be on cyber-attacks, terror and hybrid threats.
Earlier this week, it emerged that Denmark would join two military alliances, European Intervention Initiative and Joint Expeditionary Force, in a bid to boost European security.