News
Why stop at the World Cup, when VAR can be applied to awkward Danish Royal Family moments
---
This article is more than 5 years old.
Did Countess Alexandra push away Princess Marie's arm. If so, it's a definite yellow card offence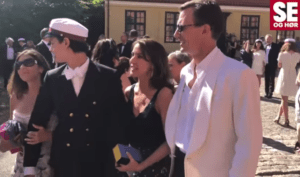 And you thought VAR awarding that penalty against Portugal and condoning that blatant Colombian headbutt was bad!
An action replay of an awkward family moment involving the Danish Royal Family is generating debate among royal watchers, according to the Danish trash mags and British tabloids.
Did Countess Alexandra, with the slightest brush of her hand, indicate to Princess Marie, the wife of her former husband Prince Joachim, that she had first dibs on linking arms with her son, Prince Nikolai, for a group photo on his graduation day?
A yellow card offence or completely unintentional – where's the VAR when you need it?
Trash mag defiant about claims
You might imagine that nobody would give a monkey's.
But the countess has taken exception to the tone of trash mag Se og Hør, which captured the moment on film – a video that has since been uploaded onto YouTube (see below).
Alexandra's lawyer Bjarke Vejby later told BT that the Se og Hør story was a complete "fabrication" and "deeply offensive".
Its editor-in-chief, Niels Pinborg, stands by the footage, however, which he describes as "embarrassing" for the countess.
"I think you can see what happened in the footage. The countess may have a different opinion to ours, but that's fine," he said.