News
International News in Brief: Greenlandic inmates uninterested in relocating back home to new prison
---
This article is more than 5 years old.
In other news, Danish ghetto legislation making waves worldwide, trade to India could be on the up and Trump praises Danish NATO activities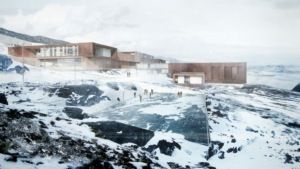 Greenland's first ever prison, the Ny Anstalt Correctional Facility in the capital Nuuk, is opening next year in May.
Reluctant to move
Its opening will bring an end to a system in which Greelandic prisoners are incarcerated in Danish prisions – most particularly Herstedvester Prison.
However, of the 27 Greenlandic inmates at the prison, only five have expressed an interest to relocate.
World's most beautiful
The decision to give Greenland its own prison was first suggested in 2003, and its construction passed by the Danish government in 2009.
Integrated into the open Greenlandic mountain landscape, it has been described as one of the world's most beautiful prisons.
---
World media unimpressed by Denmark's new 'ghetto' legislation
The government's new 'ghetto' legislation has been ruffling feathers abroad, with a number of international media outlets voicing their concern about 22 new initiatives – most particularly the one that requires the children of ghetto residents to have a mandatory 25 hours of daycare a week. The New York Times called it "harsh", while Time magazine described it as a way of telling immigrants "they are not welcome in Denmark". Many take exception to the use of the word 'ghetto' – which is seldom officially used in the English-speaking world.
READ MORE: Government aiming to get rid of 'ghettos' by 2030
Danish ambassador to India optimistic about future trade possibilities
Peter Taksoe-Jensen, Denmark's ambassador to India, has said it is time for his country to "board the train" to the market of 1.3 billion people. Speaking to thehindu.com following the appointment of Vijay Sankar as the honorary consul general of the Royal Danish Consulate in Chennai, Taksoe-Jensen noted the time was right to "reshape the role of the honorary consulates of Denmark in India". Relations have been improving recently following a rift that began in 2010 with the Danish government's refusal to give up Danish gunrunner Niels Holck so he could be tried in India.
Trump praises Denmark but says it could be contributing more to defence
US President Donald Trump has praised Denmark – no, not for punching above its weight, this time – but for its contributions to recent NATO missions, but cautioned that it is still not spending enough of its GDP. "We acknowledge that Denmark is in the process of raising defence costs," he said. "But there is still no explanation why the United States continues to spend more resources on Europe's defence when the continent's economies, including Denmark, are doing well."
READ MORE: News in Digest: A bit of give and take at NATO
Major Ryanair cabin staff strike could affect Danish flights later this month
Ryanair cabin crew have confirmed they will be taking strike action on July 25 and 26. The 48-hour strikes will mainly affect flights leaving Spain, Portugal and Belgium, and it is feared Danes on transit flights or returning home from the countries could be affected. According to Danish union FPU, the action could even affect Ryanair flights leaving Denmark. The cabin crew want fairer remuneration and pensions, recognition of national legislation in employment contracts, and an end to rules that require them to buy their own food, water and uniforms.