News
Terms of new mandate for Tibet Commission completely inadequate, says DF
---
This article is more than 5 years old.
Denmark's political parties disagree on the scope of the reopened enquiry into the suppression of pro-Tibet demonstrators during Chinese official visits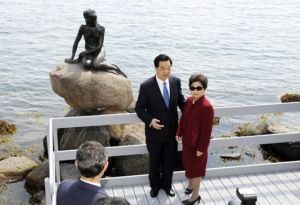 On Wednesday this week, the justice minister, Søren Pape Poulsen, outlined the precise terms of the enquiry to be carried out by the reconvened Tibet Commission.
READ ALSO: Tibet Commission enquiry to be reopened
However, even before a single committee meeting has been held, the Dansk Folkeparti judicial affairs spokesperson, Peter Kofod Poulsen, described the mandate for it as "a complete non-starter", reports DR Nyheder.
The commission was originally set up to investigate the circumstances surrounding pro-Tibet demonstrations being suppressed by police during high-level Chinese official visits to Denmark.
Both to blame
The court has ruled that the police acted illegally, but apart from two middle-ranking police officers being charged nobody else has been held accountable – largely because a lot of the background material and correspondence was thought to be lost.
Since the initial commission report, new evidence has come to light, including large quantities of emails that were previously thought to have been irretrievably deleted.
DF would have liked to have seen the commission investigate whether the initial enquiry had been deliberately obstructed – and, if so, by whom. For instance, did the Foreign Ministry deliberately withhold material that could have been relevant?
Still 'no go' areas
There has already been criticism that the new commission will be unable to question employees of the Danish security and intelligence service PET, which might have crucial information.
"In two years' time, when Tibet Commission 'number two' is finished, are we once again going to have to discuss whether to investigate whether someone in the Foreign Ministry decided not to hand over material to commission 'number two'," asked Poulsen.
The question of whether the different state organs handled requests to co-operate with the initial commission will only be taken up after the second report is completed.
Only then will it be considered "whether there is a basis for setting in motion an investigation of the authorities' handling of the handover of material to the Tibet Commission, and their associated co-operation".
The revived commission is expected to reach its final conclusions in two years.