News
Danish News in Brief: Main course arrives with sausage hor d'oeuvres for lions at Odense Zoo
---
This article is more than 5 years old.
In other news, the ticks are abstaining on their summer starter but holding out for dessert, and children are less prone to being overweight if they live in wealthy municipalities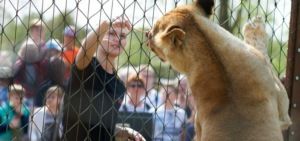 A man invaded the lions' enclosure at Odense Zoo on Sunday afternoon – apparently to feed them sausages, but it quickly became obvious that their favourite item on the menu was his own heavily-tattooed torso.
A wire fence prevented the lions from seriously mauling the man, although it is believed he may have sustained a scratch through the fence before making his escape.
A passing keeper distracted the lions from the sausages – just in case they contained an unknown substance.
---
Capitalising on peeing women at Roskilde Festival – or straight-out pervs?
Among the 59 people arrested at the Roskilde Festival this year were a couple of men accused of agitating women in the act of having an outdoor pee. A 43-year-old Italian could face charges for "staring intensely" at women in the act, while a 51-year-old Russian suspected of filming women was charged with a public order violation and ejected from the festival. However, police were unable to find any footage on his phone. There is a market for it, apparently. BT reported earlier this year how a US website was profiting from selling footage of women pissing at festivals – including Distortion and Roskilde.
Nine hospitalised after inhaling smoke from ship fire in Esbjerg
Nine people were hospitalised with smoke inhalation-related issues on July 6 after a fire broke out on EEMS Dundee, a Dutch wind turbine transporter docked at Esbjerg Harbour. It is not clear how many were members of the public, but it is believed several found themselves engulfed in thick smoke blown towards them by a stiff sea breeze. The fire was quickly contained, but the EEMS Dundee is a write-off.
20-day prison sentence concerns 1,000 awaiting sex video trials
Over 1,000 young people charged with sharing sex videos, who have been this year awaiting the results of seven test cases, have further cause for concern after a 16-year-old youth was sentenced to 20 days in prison by Aarhus City Court for sharing two group sex videos. The prosecutor had asked for 50 days in prison. So far the test cases have yielded a mixed bag of results, with some defendants escaping with just fines. The 16-year-old is considering an appeal.
Man shot dead at a house in west Zealand by three intruders
A 29-year-old man from Korsør was shot dead by three intruders at an address in Mullerup just south of the west Zealand town of Kalundborg on Sunday morning. The men forced their way in and shot him, but the police have decided not to release any more details, other than confirming it was not the man's home and that the three men fled in a small grey car, heading towards Gørlev.
Ticks in decline, but could be waiting for return of the summer rain
The number of ticks is in decline due to the dry weather, but experts warn that they are most likely hiding in the ground, as it is the only place where they can source moisture. Should the weather get wet, they will probably return with a vengeance. An estimated 200 Danes become seriously ill every year due to tick bites sustained in Danish forests.
Slovakian ice hockey fan guilty of assaulting justice minister's partner
A 34-year-old Slovakian national has been sentenced to prison for 40 days for assaulting Josue Medina Vasquez, the partner of the justice minister, Søren Pape Poulsen, on May 17 outside a central Copenhagen nightspot. As well as having to pay costs, Copenhagen City Court barred him from entering Denmark for the next six years. The defendant was in Denmark supporting Slovakia in the world ice hockey championships and he has already served his sentence – plus another ten days.
Children being overweight tends to depend on how wealthy the area is
The proportion of overweight children in Denmark varies wildly according to which municipality you live in and how affluent it is, according to an analysis of data obtained from Sundhedsdatastyrelsen by Esundhed.dk. For example, in the likes of wealthy Greater Copenhagen municipalities such as Gentofte, Lyngby-Taarbæk and Rudersdal, just 0.7 percent are overweight, while in the relatively poor Jutland municipalities Jammerbugt and Struer, the figure is over ten percent.
Stay of execution for travelcard renewals
The Rejsekort travelcard has been given a stay of execution, which means a million current holders won't have to get a new one by 2020. The cards will now be valid for seven years from their issue date, and new ones will be automatically issued when they expire. Getting a new Rejsekort costs 50 kroner, although there is strong political will to abolish the fee. Around 2.5 million people have one.
Blue health insurance card woes
Danes abroad who need to use their blue EU health insurance card are increasingly finding that healthcare authorities are refusing to give them free healthcare because they find the reimbursement system too complicated, according to a study by Styrelsen for Patientsikkerhed, which has been reported by Berlingske. Accordingly the number of Danes applying for reimbursement upon their return from holiday rose by 17 percent in 2017.