News
Danish News in Brief: Copenhagen Airport set for record day
---
This article is more than 5 years old.
In other news, overseas adoptions have never been faster, but fewer are interested, while stalking numbers are also sky-high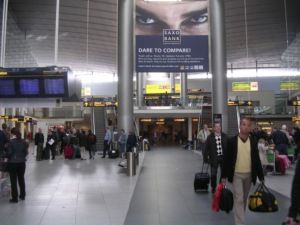 An all-time record 110,000 will pass through Copenhagen Airport today – so much for trusting the Danish summer!
June had already seen an explosion in numbers, with 6 percent more than in 2017 – 2,943,646 in total.
Not all heading to the Med
However, they are not all holiday-makers heading to the likes of Spain, according to Christian Poulsen, the airport's technical director.
Many are cruise ship passengers disembarking from Copenhagen Harbour, he revealed, while the number of foreign business travellers remains high.
---
Warning issued to lake swimmers over skin rash-causing parasite
The Naturstyrelsen nature authority has issued a warning concerning 'cercarial dermatitis', an itchy rash caused by microscopic parasites that burrow under the skin in freshwater lakes. Also commonly known as 'swimmer's itch', five bathers were affected by the rash at Esrum Lake in north Zealand and cases have also been reported in lakes in nearby Farum and the mid-Jutland towns of Silkeborg and Viborg. The rash is irritating but ultimately harmless, and the parasite tends to leave or die once it realises its human subject isn't its preferred host, waterfowl such as ducks and geese.
Chances of being stalked are one in 50
Over 100,000 Danish residents are stalked every year – just under 2 percent of the population – according to figures released by the Justice Ministry. Some 63 percent are female. Around a third are stalked by somebody they had a close relationship with, a third by an acquaintance – for example, a neighbour or a colleague – and a third by somebody unknown. An increasing number – one in every four – are being stalked almost entirely digitally.
Overseas adoption numbers in freefall despite reduced waiting times
The number of Danes seeking to adopt children from abroad has fallen heavily in the last six years. In 2012, there were 314 applications, in 2016 just 61, and last year there were only 48. Long waiting times have been partially blamed, but these are in freefall as well. For example, the waiting time for a South Korean child has fallen from five to one years, while the rate for South Africa has fallen from 3-5 to 2-3 years. Danish International Adoption blamed improving fertility treatments and the overall cost. Adopting a child from South Korea, for example, costs 290,000 kroner.
Dane formally charged with starting wildfire in Colorado
A 52-year-old Danish man has been formally charged with starting the second worst wildfire to hit the US state of Colorado. It destroyed 47,000 hectares of land, including 141 buildings. The Dane, who was arrested on June 30 while the fire was still ongoing, denies starting the fire on purpose. It has emerged he is living illegally in the US on an expired visa. Bail has been set at 320,000 kroner.
READ MORE: Dane charged with starting devastating wildfire in Colorado
Farmers will be able to use fallow fields for feed from August
Following the approval of its member states yesterday, the EU Commission is expected to formally confirm that farmers will be able to use fallow fields to alleviate their livestock feed shortages during the ongoing drought. From August 1, the rules preventing farmers from touching fields rendered fallow due to crop rotation will temporarily be lifted.
Nuclear sub passes through Danish waters
A Russian nuclear-powered submarine passed through Danish waters yesterday, on its way to a gathering of its country's fleet in St Petersburg on July 29. As is routine, the vessel was accompanied by a Danish patrol as it passed through the Kattegat, under the Storebælt, and then south of Lolland-Falster. 'The Orel' left Danish waters at approximately midnight last night.