News
A big Yes to Improv: the North Atlantic crossover that keeps on giving
---
This article is more than 5 years old.
How Improv Comedy Copenhagen on Frederiksholms Kanal has quickly become a hotbed of creativity in the capital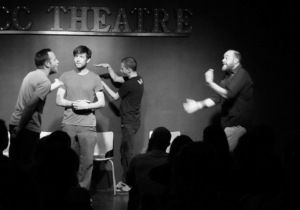 No culture has embraced and celebrated improv with such rapture than America. For decades practically all leading comedy actors in Hollywood cut their teeth in this way.
Who ya gonna call?
Both the original Ghostbusters – Bill Murray, Harold Ramis and Dan Aykroyd – and the current roster of Kristen Wiig, Melissa McCarthy, Kate McKinnon and Leslie Jones all came from improv.
Tina Fey and Amy Poehler both credit their success to time on stage making stuff up for laughs.
And it is partly thanks to Poehler's New York improv company Upright Citizens' Brigade (UCB) that I now regularly get up on stage in the centre of Copenhagen.
Strong US influence
Improv Comedy Copenhagen is dedicated to American-style improvisational comedy. It was founded by American performer Stephanie Grassley and two Danes, actor Stefan Pagels and entrepreneur Kaspar Jacobsen.
UCB member Grassley relocated in 2014 to Copenhagen, where she met Pagels, who also spent several years in the US studying and performing with some of the best performers on the celebrated Chicago improv scene.
After running his own improv shows in Chicago and Copenhagen, Pagels joined forces with Grassley and together with Jacobsen set up the ICC.
Best stage in the city
Fast-forward to the present and, despite Grassley leaving the theatre (to run a castle hotel in Italy?!), the ICC is flourishing.
In 2017 it won the AOK Byens Bedste award for Best Stage in Copenhagen and has professional improv shows every Wednesday to Saturday and stand-up comedy on Sundays, entirely in English, performed by players from all over the world.
Most have also trained at the ICC, taking one of the many courses and free drop-in workshops on offer. With corporate training packages also available, it's clear the ICC has lofty ambitions. But do they know what they're doing or are they just making it up as they go along?
The universal language
I stumbled into their wonderfully warped world of improv while searching online for English-speaking comedy in Denmark. Turns out there's not much, which I always found to be odd.
Most people in the world don't speak Danish, but if you find yourself in Copenhagen, wherever you're from, chances are you'll be communicating in English.
That means there's hundreds of thousands of students, tourists and expats in the capital who would love to see live comedy in a language they can more easily understand. So when I found the ICC website, I was intrigued.
Just say Yes
I signed up for their 'Level 1A' course – a week-long intensive training program. Back in the UK I had been writing and performing comedy for over a decade, but up until now that had been scripted, either for TV or as stand-up material. I was unsure whether my experience would transfer to live improv? How would I fare trying to be amusing on the fly?
The main principle that sets improv apart from other comedy styles is that it hinges on a single guiding rule: 'Say Yes And …'
Improv scenes develop from accepting what your performing partner says as truth, then building from there. Saying "No" or flat-out contradicting to cause tension shuts down a scene, as I soon found out.
In other forms of comedy, writing sitcoms or stand-up, the comedy often stems from creating tension, conflict and revelling in frustration or feeling trapped. I had to leave that at the door pretty quickly and embrace (often literally) this brave new world of positive affirmation.
Magical mystery tours
That's not to say improv is all about hugging and learning. There's room to explore all emotions, scenes and characters. You are limited only by your imagination.
There is something incredibly exciting about going on stage not knowing what's going to happen, but trusting your teammates to support you as you take the audience on a ridiculous and surreal journey just about anywhere. It's a very inclusive form of entertainment.
It all starts with a single suggestion from the audience, so they are in on the joke from the start, but they have no idea where it's going to end up. That's the job of the improvisers and the ICC has some very talented, skilled and supportive performers. When they've got your back, you'll soar.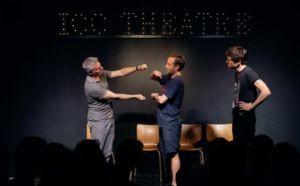 With a little help from some friends
Improv Comedy Copenhagen officially opened its doors on Frederiksholms Kanal on 15 September 2016 with a special guest, the former US ambassador Rufus Gifford, who even joined the performers on stage to serve up spontaneous monologues from which the team had to improvise sketches in front of a packed house.
Gifford fully endorsed the ICC as not only a playground for his beloved American-style improv, but also as a place to develop valuable life skills such as collaboration, self confidence and communication.
Now I am a regular fixture at the ICC, I concur. I realise my endorsement doesn't quite have the official weight of the US Embassy, so your best bet is just to go down there and see for yourself.
Go on. Don't even think about it; just say yes. And …