News
Danish coastguard outlines the financial and human costs of empty drifting inflatables
---
This article is more than 5 years old.
Not only is every helicopter visit to a lilo expensive, it also endangers bathers seriously in need of help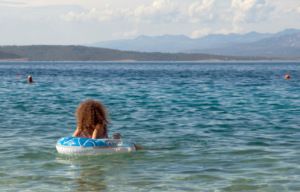 Those inflatables aren't cheap! It's as if making them resemble animals have given the manufacturers licence to add an extra zero to the price.
So when little Lars turns up blubbing from his swim to announce that Søren the Swan has left for the big blue beyond, your first reaction is to curse the hole in your wallet that is quickly becoming a crater.
But that isn't the only financial cost. According to the Eftersøgnings- og redningstjenesten rescue services, thousands of kroner are being lost in Danish waters due to unnecessary helicopter visits to empty drifting inflatables – as many as two a day.
The human cost
According to Klaus Thing Rasmussen, the head of Forsvarets Operationscenter – which oversees the deployment of rescue helicopters from Aalborg, Roskilde and Skrydstrup in south Jutland – the false alarms are eating into their resources, but the most worrying cost is the potential human one.
"It's hard to put an exact price on a callout," Rasmussen told DR.
"Ultimately, we are here to save people, so we don't tend to think in those terms. The bigger blow is when there is someone in genuine need and the helicopter is elsewhere."
More care needed
Rasmussen pleads with bathers to take extra care when using an inflatable – and to immediately report losing one to the nearest lifeguard.
"That way we can hopefully avoid sending our six-man crew to another false alarm," he said.
No figures are yet available for this summer, but Rasmussen predicts a massive increase on the damp squib that was 2017.