News
Grieving US mother seeks answers concerning daughter's death in Aalborg flat
---
This article is more than 5 years old.
Sybil Pennington believes that all the evidence suggests her girl was unlawfully killed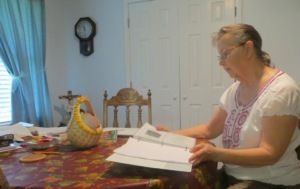 A whole year has passed since US resident Pamela Seals Jørgensen, 45, was found lifeless in her Danish husband's flat in Aalborg, but investigators have made little progress in their bid to establish how she died on 19 July 2017.
Initially it was assumed she had committed suicide, but a lengthy autopsy confirmed that lesions around her throat area suggest she died of "traumatic strangulation caused by violence against the neck", and that they were most likely not self-inflicted.
Medical examiners were asked to consider the possibility she strangled herself, as it was confirmed by investigators that Pamela had looked into the possibility of committing assisted suicide in other European countries.
Complicated home life
Her home life was complicated to say the least. After marrying a Danish man in 2003, they separated in 2011, and Pamela returned to the US where she fell in love with an old high school classmate.
But when he tragically died in 2016, she returned to Denmark in early 2017 to give her marriage another shot.
The police have ruled out the husband as a suspect. He was at work at 13:00, the estimated time of Pamela's death, and crucially, they say, he does not have a motive.
A mother searching for the truth
Pamela's mother Sybil Pennington won't let the case lie, and in a report in today's Athens Banner-Herald she has lambasted the slowness of the Danish authorities.
"I've gone back and forth with those people over there," Pennington told the Georgia newspaper.
"They are light on crime, but she's a human being and she deserves somebody to pay for what happened to her."
No charges forthcoming
Pennington believes the autopsy suggests her daughter was unlawfully killed. It cites a "blunt force trauma to the neck" that indicates strangulation was the cause.
However, senior prosecutor Peter Rask wrote to her on July 25 this year to say no charges would be pressed against her Danish husband, and that the case would now be referred to the attorney general in Viborg.
"The coroner has investigated your daughter. He has concluded that the exact cause of death cannot be settled," Rask wrote, conceding that it "could however be caused by choking".
Was the bathroom lock damaged?
Pamela was found dead on the bathroom floor by her Danish husband when he returned home from work. He called the authorities at 17:50 and they arrived ten minutes later to pronounce her dead.
Pennington believes some of the facts concerning the case are being with-held. For example, she has heard the lock on the bathroom door was damaged, but this has been strongly denied in Denmark.
Unemployed Pamela was no stranger to staying home, or for that matter expressing sorrow about the death of her boyfriend, who she "grieved terribly over" in front of her husband, according to her mother.
She even wore a locket around her neck containing some of his ashes.