News
Bar Wars: Can the Globe strike back in the annual Tug of War battle?
---
This article is more than 5 years old.
This year's organisers are currently recruiting teams to take part in the charity fundraiser on Sunday August 26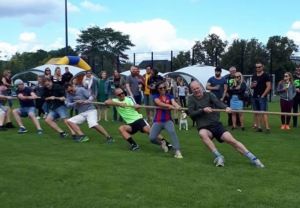 Forgive the first person approach – a continuation from last year – but I took part in the inaugural 'Tug of War: Battle of the Bars' at the CSR Rugby Pitches (Arsenalvej 2 near Holmen) last year, and it was a blast!
READ MORE: Give in to the pulling power of the pubs at the Copenhagen Tug of War tournament
Not just because my team, representing the international football club Copenhagen Celtic, beat The Globe in the final, but because it was a well-organised event with a barbecue and refreshments that also gave many children a chance to pull some old rope.
We weren't the biggest side – every team must field at least one woman in their eight-person line-up and two substitutes are permitted – so it was an unexpected triumph, but according to one participant, "we had the advantage of being a sports club" … as well as a slight downhill advantage in the decisive pull (see video below).
The more the merrier
The organisers are busy recruiting teams for this year's edition on Sunday August 26 from 12:00, and as well as the defending champions, the GAA gaelic football club and a rugby-select team have confirmed their participation.
Most of the well-known bars will be there, including co-organisers The Globe and The Dubliner, The Dubliner Downtown, Barkowski and Kennedy's.
And given this is a charity fundraiser generating funds for the Danish Cancer Society, the more the merrier as there is no limit on the number of teams who can take part.
Entry costs just 200 kroner, and there is a subsidised Carlsberg bar and barbecue on site, along with entertainment for the youngsters: a bouncy castle, an egg and spoon race, and a sack race.
To enter a team, or find out more about the day, contact Paul at mcnamarabear@gmail.com or via 9197 2001.