News
Culture News in Brief: Karen Blixen museum in danger of closing down
---
This article is more than 5 years old.
No danger with that happening to 'X Factor', which announces a new lineup of judges, or ZULU Summer Bio, which has confirmed its Copenhagen schedule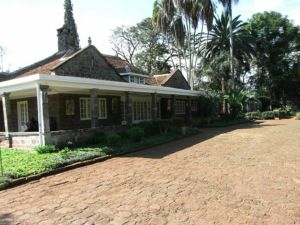 Ironically, perhaps, at a time when interest in the Danish author Karen Blixen is expected to soar due to a new miniseries about her life currently being made by Susanne Bier, Karen Blixen Museet is struggling financially and on the brink of having to close down.
READ MORE: Oscar-winning Danish director to film TV series adaptation of Karen Blixen's 'Out of Africa'
The museum's chairperson, Michael Bjørn Nellemann, has told Frederiksborg Amts Avis that all funding derived from Blixen's will has been exhausted, that cuts have been made everywhere possible, and that it will most likely shut down in two years' time.
However, Konservative MP Mette Abildgaard is hopeful the government could find room for 2-3 million kroner of annual funding for the museum, which has been privately run since 1991, in its next budget.
---
The latest Danish act immune to the potential offence of their language?
Will a performance at Smukfest by young duo Ravi Kumar go viral as the kind of song that indicates the 'end of times' is really with us? Every year, the music industry pushes the ceiling of depravity ever further, with Danish artists more immune than most to the potential offence of incessant vulgar language. Ravi Kumar's song (see here on DR) pretty much hinges on one line, repeated again and again: "All you motherfuckers keep staring at my dick, staring at my dick, staring at my dick." Ravi Kumar, meanwhile, has been busy, performing at the Carpark Festival in Copenhagen in late July – an ideal location given their song's dogging undertones – with plans to perform at the Egmont Festival in Nørrebro later in August.
Models perform CPH Fashion Week show dressed in burqas and niqabs
A runway show by Iranian-born Danish designer Reza Etamadi at Copenhagen Fashion Week on Wednesday drew the attention of the international media (one suspects they were tipped off) by using models dressed in burqas and niqabs – a commentary on the recently introduced 'Burka Ban' – as well as some dressed as police officers. The MUF10 clothing brand's show was covered by the likes of the Daily Mail and New York Times. "In Iran, where I was born, women struggle to freely choose what they want to wear," the designer stated according to BT. "We should not punish a woman who does not threaten or inflict any other harm, simply because of her attire."
ZULU Summer Bio coming to a carpark near you
Two outdoor films are being screened in the carpark at Øksnehallen in the Copenhagen district of Vesterbro as part of this year's ZULU Summer Bio. Oscar nominee 'Lady Bird' is being shown at 21:00 on Thursday August 16, and then the Marvel superhero film Black Panther one day later. While the latter is the ninth highest grossing film of all time (not adjusted for inflation), entry for both screenings is free.
Sexual and social history of Pisserenden laid bare at Pride
This weekend will see the colours of the rainbow hit the streets of the capital in earnest as visitors start congregating to celebrate Copenhagen Pride Week, but they needn't feel like there isn't much to do until the main parade on Saturday August 18. From Monday to Thursday next week, at 16:00 for the price of just 50-75kr, they can take an English language tour, 'Prisoners of Love', to learn about the sexual and social history of Pisserenden, a city centre area close to Rådhuspladsen and Rainbow Square. Find out more at byvandring.nu.
World Cup and Tour de France sees TV2's viewing figures soar
TV2's main channel has had a great summer – thanks primarily to its broadcast of the 2018 World Cup (rights shared with DR1) and Tour de France, which enabled it to grab a 40.7 percent market share between June 1 and August 5. The average Danish viewer spent 20 hours watching World Cup football on TV2 and DR1 – a collective 110 million hours and 32 percent of their total viewing over the two months.
Judges line-up confirmed for 2019 series of 'X Factor'
TV2 has confirmed its line-up of judges for the 2019 series of 'X Factor' – the first following the program's switchover from DR1, its home for the last ten years. Joining long-time favourite Thomas Blachman, who has appeared on ten of the eleven seasons thus far, are internationally-acclaimed singer Oh Land, a judge previously on 'The Voice Junior', and music producer Ankerstjerne, who is best known for his work with Rasmus Seebach.