News
US ambassador disappointed over Copenhagen Pride snub
---
This article is more than 5 years old.
Carla Sands underlined that the US promotes and protects human rights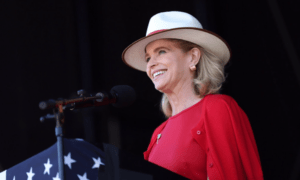 The news that swaths of the LGBT community in Denmark will be boycotting the annual reception held at the US Embassy in connection with Copenhagen Pride has been met with dismay by US ambassador Carla Sands.
The event is held jointly by the British, Canadian and Australian embassies at the US ambassador's residence in Charlottenlund, just north of Copenhagen.
"We are disappointed that some members of local organisations for lesbian, gay, bisexual, transgender and intersex persons have refused to take part in the pride reception held by the ambassadors," Sands said in a press release, according to DR Nyheder.
READ MORE: Copenhagen Pride to boycott US reception
Pride and prejudice
According to the press release, the US Embassy also underlined that the US strives to promote, protect and improve human rights, including that of the LGBT community.
Yesterday, Copenhagen Pride, the organisation behind the increasingly popular event, stated it would not take part in the reception due to the Trump administration rolling back LGBT-positive legislation.
The Trump administration-appointed Sands arrived in Denmark late last year. Her predecessor Rufus Gifford, who is openly gay, was immensely popular in the LGBT community.
Gifford last hosted the reception at the embassy in 2016, but it was not held last year as the embassy was in between ambassadors.
Obama to Kolding
In related news, former US president Barack Obama will visit Denmark next month to participate in an event at the University of Southern Denmark in Kolding as a guest speaker.
Obama will meet with students and the business community at the September 28  event, which is being hosted in co-operation with Kolding Municipality and Business Kolding.
"One of the world's most charismatic and important leaders has agreed to visit us. It's an extraordinary moment for Kolding," Morten Bjørn Hansen, the head of  Business Kolding, told DR Nyheder.
The event will include 200 students and other invited guests, but will be closed to the public.
Obama, who was the US president for eight years until 2017, visited Denmark twice as POTUS – both times in 2009.