News
A bad hair day for qualified hairdressers
---
This article is more than 5 years old.
Perhaps unsurprisingly, customers seem to care more about the price of a haircut than whether the person cutting their hair has been trained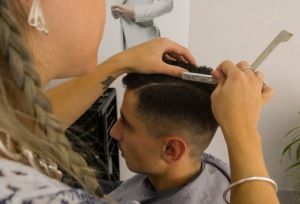 Next time you are sitting in the barber's chair contemplating a short back and sides or a Number 1, perhaps you should also consider asking to see your barber's diploma.
According to figures released by the Danish statistics keeper Danmarks Statistik, more then every fourth hairdresser or barber has no formal training, DR Nyheder reports.
At present, out of the 12,353 people working in the hairdressing field in Denmark some 3,300 are untrained or are undergoing training. This is an increase of 28 percent since 2012.
Undercutting the market
The Danish organisation for independent hairdressers and costmetologists, DOFK, finds the trend very worrying.
"The consequence of this is a parallel branch of hairdressing running in tandem with the established one and that is crazy," said Connie Mikkelsen, the head of the trade organisation.
"We have a shortage of labour and in come all these untrained people. It is very damaging for the profession."
READ ALSO: Tax-cheating barbers cutting into legit profits, say hairdressers
A trained hairdresser undergoes four year of schooling and the organisation would like to see politicians implementing a certification system to help customers.
"If you are working with dangerous chemicals, you need a four-year training period to learn how to handle them so as not to harm yourself or the customer," said Mikkelsen.
Demon barber
Typically, an untrained barber charges around 150 kroner for cutting a man's hair. Simone Krog Debel is a trained hairdresser working in a salon in Aabenraa. Here, they charge 200 kroner.
"I also need to earn a living. We have to pay for electricity, water and heating. We also have to have a collective agreement," Debel told DR Nyheder.
"I can't just stand there and cut a man's hair for 100 kroner, otherwise I'll be completely worn out because I'd need to cut four men an hour and one haircut takes around 30 minutes," she added.
Enough to make your hair curl
However, the hairdressers may have to wait some time for any political action. Venstre's business spokesperson Torsten Schack Pedersen doesn't believe that this is a matter for politicians.
"We have free competition in business to attract customers and there you have to use your degree of competence as well as quality," said Pedersen. "It sounds to me as if they want to restrict free competition and that is not in the interest of the consumers," he added.