News
Large fish making return to the North Sea
---
This article is more than 5 years old.
Meanwhile, mosquito numbers are way down across Denmark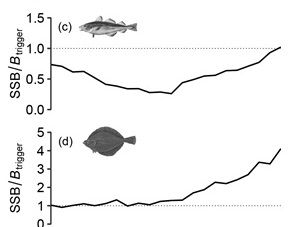 A new study by the Technical University of Denmark (DTU) has shown that there has been a significant increase in the numbers of large fish in the North Sea in recent years.
The research revealed that the biomass of 25 species of large fish in the North Sea has doubled since 2000. In some cases, as with the cod, flounder and hake, the increase has even tripled and quadrupled.
"The populations of large fish such as the cod have been struggling for a long time. But now we can finally see a tendency that indicates they are being restored," said the lead author of the research, Rob van Gemert, who contends it could have a big impact in the food chain.
"We call it an opposite trophic cascade. When there are more predatory fish, their prey will be consumed in higher numbers and that will impact the prey's breeding ability. Ultimately, it could impact the fishermen who live on catching smaller fish like sandeel and sprat."
Based on data from 2016, the research has been published in the scientific journal, ICES Journal of Marine Science.
READ MORE: Denmark among worst overfishing nations in Atlantic
Mosquitos missing
In other DTU-related news, the drought this summer seems to have considerably impacted the number of mosquitos buzzing about the Danish countryside.
DTU has monitored the mosquito population in Denmark since 2011, and this summer has seen a record low number.
"We had a lot of mosquitos this spring, but then the drought kicked in and prevented them reproducing," said Rene Bødker, an epidemiologist at DTU, according to the tabloid newspaper BT.
"All mosquito species are dependent on water sources to develop their larvae. They reproduce in small puddles and water holes, and if these dry out before the larvae have hatched, there are fewer mosquitos during the high-season."
Bødker said that the recent rain in Denmark could lead to more mosquitos at the end of summer – perhaps by the end of August. There are 30 species of mosquito in Denmark.