News
Billion-kroner pot to secure Denmark's coastal areas
---
This article is more than 5 years old.
Protection of coast part of government's upcoming budget proposal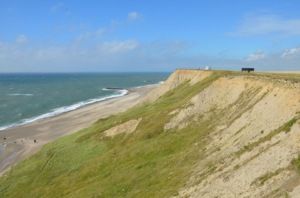 The Danish coast is rundown and ragged in a number of areas and tens of thousands of houses are in danger of being flooded or simply slipping into the sea.
But as part of its forthcoming 2019 budget proposal, the government hopes to alleviate some of the pressure by setting aside over a billion kroner to help better secure the vulnerable coastal areas in Denmark.
"There is a need for us to act now and re-establish the lost ground so that towns, houses and infrastructure behind the dunes don't become flooded. Over several years hard weather there has worn down the coastal defences and we want to counteract that with a massive investment," said the food and environment minister, Jakob Ellemann-Jensen.
READ MORE: Coastal erosion is gradually expunging Denmark's cultural heritage
West coast key
The state has spent 96.9 million kroner annually from 2014-2018 on coastal defnece and the government aims to increase that to 184.6 million kroner annually from 2019-2024.
In Denmark, it is actually the responsibility of the landowner to protect their own property, but the state has financed coastal defence on the west coast of Denmark for over a century. The west coast is recognised as being the area most vulnerable to flooding in the entire country.
"Every year, the sea strips several metres from the central part of the west coast of Jutland and that needs to be halted," said Ellemann-Jensen.
One of the most critical areas is the 110km stretch of coastline between Lodbjerg og Nymindegab. It is estimated that about 10,000 properties worth around 11 billion kroner will be lost to flooding over the next 25 years if that stretch isn't protected.