News
Danish News in Brief: Whisky galore in west Jutland
---
This article is more than 5 years old.
In other news, men dominate higher university echelons and Danes are obsessed with monitoring their lives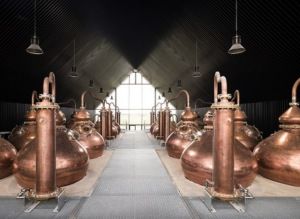 Stauning Whisky, a Danish micro-distillery that began with nine friends and a 15-litre saucepan, has now hit the big time. Diageo, the world's largest spirits manufacturer, liked what it tasted so much that it decided to invest 100 million kroner into Stauning, reports DR Nyheder.
READ ALSO: Danish whisky from Jutland in high demand around the globe
However, lest anyone think that success will go to their heads, the team behind Stauning insists they will continue to distill their amber nectar in the age-old way. The new funds have enabled the construction of a 5,000 sqm malt house complete with ovens, a bottling plant and 24 copper brew kettles.
Stauning's whisky has been served at the world-famous Danish restaurant Noma, and in 2014 Prince Henrik came by to taste some. Up until now, Stauning has been able to produce 80,000 litres per year, but with the new plant it will be possible to go up to 900,000 litres – although the distillery cautions that it intends to increase production gradually.
---
Higher levels of academia top-heavy in men
Inequality is still flourishing in the Danish academic world, reports DR Nyheder. Although more women than men initially attend Danish universities, their numbers quickly thin out the higher up the system you go, according to new postdoc research carried out by Mathilde Cecchini at Aarhus University. At the top end, only two out of ten professors are female and this is a great waste of potential talent, the study concluded. "We see a tendency that the number of women at universities is less for every rung of the career ladder we go up," said Cecchini. Her research also points to the fact that the disparity between the sexes amongst researchers also influences which research projects are worked on. Cecchini points out that networking can be one of the reasons why men are promoted more often. "International research shows that men network with men and have more contacts higher up in the system, which gives them an advantage when it comes to job interview situations," added Cecchini.
Measure for measure
Danes seem to love gadgets that monitor their activity patterns and collect data on their lives. Every third family has bought some kind of device – be it a pedometer, heart rate monitor, fitness tracker or sleep monitor, reports DR Nyheder. Nowadays it is possible to find technology to measure almost anything, but if it is to be of any use it has to be used properly. "The biggest mistake people make is to buy a measuring device without knowing what they want to use it for," said Nanna Gorm, a PhD researcher from Denmark's IT University. "Another mistake is to set a goal without knowing one's starting point, so the goal set is unrealistic," she added. However, if used correctly these devices can have a beneficial effect on health. The fact that people are focusing on how they live their lives allows them to take steps to prevent the development of serious illnesses.
Wood pellet imports booming
The annual quantity of wood pellets imported by Denmark corresponds to the production of a forest area of around one million hectares – larger then Zealand and Funen put together, a report by Hededanmark for Ingeniøren reveals. In 2016 around 2.5 million tonnes of wood pellets were used by Danish power stations and households. Nearly all of this came from abroad and the report goes on to say that if Denmark were to supply the same amount, the area under forestation would have to be tripled.