News
News in Digest: Heat turned up on Danske Bank
---
This article is more than 5 years old.
Both Denmark and Estonia have launched investigations into money laundering claims at its Tallinn branch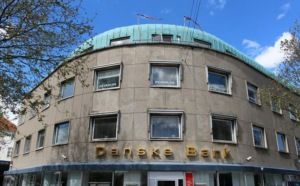 The public prosecutor for serious economic and international crime, SØIK, has launched a criminal investigation into money laundering allegations at the Estonian branch of Danske Bank – claims that first surfaced in September 2017.
A recent leak estimated that as much as 53 billion kroner from countries such as Russia, Azerbaijan and Moldova has been laundered – a "colossal" amount, SF's Lisbeth Bech Poulsen told Politiken, which represents "the biggest money laundering case we have ever seen".
It is believed the branch made a gross profit of 1.5 billion kroner from its non-resident portfolio between 2007 and 2015, but Danske Bank has said it will forgo all the earnings.
Allegation of theft
Just last month, the British businessman and CEO of Hermitage Capital Management (HCM), William Browder, reported Danske Bank to the Danish and Estonian police for its role in the theft of 1.4 billion kroner from HCM in 2007.
SØIK's decision follows a similar one by the Estonian authorities in late July, and the results of Danske Bank's own inquiry are expected in September.
Nordea's busy summer
In related news, Danske Bank was one of five banks fined by the European Securities and Markets Authority for issuing credit ratings between June 2011 and August 2016 without being authorised to do so.
Nordea, which was also fined, has had a busy summer, first forking out 4.5 billion kroner to acquire Gjensidige Bank, a Norwegian online enterprise that specialises in loans to buy cars, from the insurance group Gjensidige Forsikring.
And then it learned that the US central bank, the Federal Reserve, has approved its application to run a department in New York State in the wake of a merger between its Swedish and Finnish banks.
Class action fails
In other banking news, a class action involving 454 Amagerbanken shareholders has failed at the eastern high court, Østre Landsret, to recover 30.5 million kroner in compensation after helping to raise funds to aid the bank's recovery in late 2010.
However, despite a two-year state guarantee and funding, the bank was shut down 88 days later in February 2011, and the shareholders allege they were misinformed by the FSA.