News
Copenhagen continues to enjoy a strong global reputation
---
This article is more than 5 years old.
Danish capital third on 2018 City RepTrack Ranking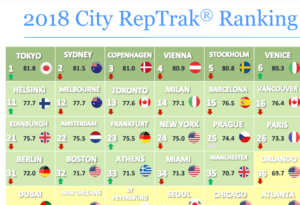 Copenhagen may have a reputation for being expensive and having poor weather, but that doesn't seem to have overly tainted the Danish capital's global prestige.
According to the 2018 City RepTrack Ranking, published annually by the Reputation Institute, Copenhagen enjoys the third-best reputation worldwide. The city fell one spot compared to last year.
"There is some shake-up in this year's list– only four cities appeared last year, meaning six are new to the top 10. Sydney, Copenhagen, Vienna and Stockholm were the only cities on last year's top 10 list," the ranking report found.
READ MORE: Copenhagen ranked among world's most liveable cities
Tokyo tops
Tokyo topped the list, followed by Sydney, Copenhagen, Vienna and Stockholm, while Venice, Rome, Zurich, Munich and Montreal completed the top 10.
Other notables included Helsinki (11), Melbourne (12), Barcelona (15), London (17), Amsterdam (22), New York (24), Paris (26), Berlin (31), Hong Kong (37), Seoul (44), Rio de Janeiro (51) New Delhi (53) and Moscow (56).
The City RepTrack Ranking (here in English) ranks the reputations of over 50 cities in the world based on a number of parameters such as safety, beauty, economy and respectable leaders.