News
Business News in Brief: Epitomising the milk of human kindness
---
This article is more than 5 years old.
In other news, Nordea has aroused the height of customer dissatisfaction and Richard Branson looks set to intrigue the Danish business community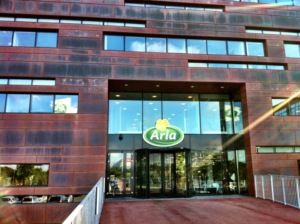 In an unprecedented move, Arla Foods will divide its 2018 profit with its 11,000 dairy farmer members in light of the problems they have encountered due to the summer drought.
In total, 2.3 billion kroner will be shared by the farmer shareholders in 2018 – around 1.3 billion more than they normally get, as they tend to divide up 1 billion kroner at the beginning of each year.
Unusual circumstances
"As a farmer-owned company, we are very concerned about our shareholders, and we recognise that this summer's drought in Europe has been unusual," stated Arla Foods chair Jan Toft Nørgaaard.
"We therefore propose that this extraordinary action be taken in this situation."
A quarter are Danish
The farmer shareholders are located in seven different countries: Denmark, Sweden, Britain, Germany, Belgium, the Netherlands and Luxembourg.
Some 2,675 are located in Denmark and they produce an estimated 40 percent of Arla's milk.
---
New journey planner launched for travellers who like to improvise
A new version of Rejseplanen, which for years has been helping journey planners in Denmark work out the best route from A to B – whether it's by foot, train, bus or Metro, or invariably a combination of all four – has been launched. Min Rejseplan factors in additional modes of transport such as taxis, city bikes and even carpooling, which in most cases can significantly speed up the journey time, albeit at a slightly bigger expense.
Richard Branson confirms March date in Copenhagen
Awaken Business Summit 2019 has confirmed that British entrepreneur  Richard Branson will be among its keynote speakers at the Tivoli Hotel & Congress Centre from March 21-22. The airline-owning yet environmentally-conscious businessman is among a strong line-up that organisers promise will "empower you to become the best version of yourself".
Bestseller to take stake in UK loan operator
Bestseller owner Anders Holch Povlsen has acquired a 10 percent stake in UK company Funding Circle, which specialises in providing loans to small and medium-sized businesses, reports Sky News. The stake could end up costing Povlsen 13.7 billion kroner when Funding Circle floats on the London Stock Exchange in October in what is anticipated to be one of the biggest IPOs of the year.
Big banks remain the worst as far as customers are concerned
Nordea is the worst bank operating in Denmark, according to a Voxmeter survey of 39,000 customers. It finished bottom of a list of 20 banks, two places above Danske Bank. Topping the rankings was Ringkjøbing Landbobank, which ended Arbejdernes Landsbank's nine-year stretch as the most popular.
Pack your bags for Sweden … again
The Swedish krona has never been cheaper to buy for Danes. Just six years ago, it was nearly on parity at 0.91 kroner, but it has since fallen heavily, and in late August it slipped below 0.7 – its lowest point since 2009. Experts blame a slowdown in the Swedish housing market and pessimism about the Swedish general election on September 9.