News
Government wants to encourage more recycling in the building trade
---
This article is more than 5 years old.
Bricks, roof tiles and other building materials could be recycled much more than they are today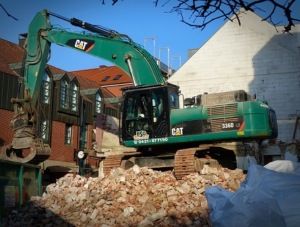 The traditional Yorkshire saying "Where there's muck there's brass" is as apposite today as it was when it was coined – especially with the spotlight firmly focused on recycling.
As part of its 'circular economy' initiatives towards a greener and more sustainable Denmark, the business minister, Rasmus Jarlov, has indicated that when it comes to building for the state, environmentally-friendly companies will be given priority, reports DR Nyheder.
A load of old rubbish
Every year, the building trade generates around 4.1 million tonnes of waste material – or one-third of all the rubbish generated in Denmark. At the moment around 80 percent of this builder's waste is reused, but it is crushed and used as road fill.
READ ALSO: Five tower blocks to be demolished in Brøndby
"We think the state should take the lead when it comes to more sustainable building. We'd like to be able to choose the companies that use materials that are not hazardous to the environment and use materials that can easily be recycled," said Jarlov.
A competitive edge
In practice, this would mean that when it came to awarding contracts, the state would consider more than just the price of the building.
"Today, the state looks solely at what it costs to build a new building. In future, we will also calculate in the costs for reusing the materials that go into the building. That will give the companies that are good at recycling a competitive edge," Jarlov explained.
The government is setting aside 116 million kroner over the next four years for initiatives designed to move the circular economy forward.
Some of this money will go to making firms better at recycling and reusing materials that would otherwise end up as rubbish, and there will also be money for companies that design materials so that they can be recycled again and again.