General
Culture News in Brief: New DR show rejigged following viewer complaints
---
This article is more than 5 years old.
Elton John is saying goodbye, Thomas Vinterberg is showing is new film, and Dutch artist Dries Verhoeven wants the Danes to lighten up and stop living in fear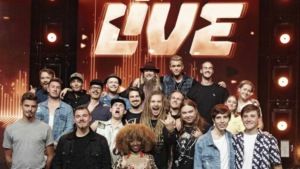 When DR decided to replace 'X Factor', producers presumably thought they had a good replacement. It's doubtful, though, whether that show is 'LIVE'.
Viewers have complained  … a lot in fact. First of all, they got angry that the contestants only got 30 seconds to perform. And then they got angry they didn't have enough time to vote (the monetary aspect takes priority over all others, remember).
DR has now raised the performance time from 30 to 60 seconds, and overall the show has been extended by 25 minutes, broadcast from 20:00-21:00 and then from 21:25 every Friday.
---
Vinterberg's new film 'Kurst' opens film festival
Thomas Vinterberg's new English-speaking film 'Kurst' is opening the Toronto Film Festival, which runs from September 6-16. The plot is about the Russian submarine accident in 2000 in which 118 crew members lost their lives. Among the cast are Leá Seydoux, Colin Firth and Lars Mikkelsen.
Horsens is also getting a festival 
On September 7 at 14:00, the two-day festival Wall of Sound is opening its doors on the lawn by Horsens Statsfængsel to 7,500 visitors. What makes this festival stand out from others are its good vibrations, according to festival head Michala Mellson, who wants the visitors to smile and hug each other. With help from 200 volunteers the festival has put together 20 concerts and over 200 activities. Among the artists performing are Scarlet Pleasure, Alex Vargas and Benal. Tickets cost 450 kroner.
Danes criticised by controversial artist
Dutch artist Dries Verhoeven is firing barbs at the Danes in his new exhibition 'Phobiarama' at Bispetorvet in Aarhus. "It is the media and politicians that make us scared, not reality," he has said. "We are afraid of what is different from us and there is no need to be." The exhibition ends on September 9.
Last chance to hear Elton John live
Elton John's 'Farewell Yellow Brick Road' tour is visiting Royal Arena on 18 May 2019, where the flamboyant singer-songwriter will sing all his hits for the last time in Denmark. Ticket sales started today at livenation.dk. Check internet forums if there aren't any still standing.