News
Danish News in Brief: Denmark has Europe's smallest proportion of 'severely overweight' adults
---
This article is more than 5 years old.
In other stories, minister wants 'ghost net' problem investigated and a free database of aerial photos is now available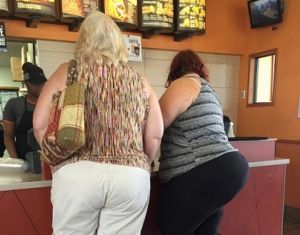 New figures from the World Health Organisation (WHO) regarding adult obesity reveal there is some good news for adult Danes. Although a fifth of them are classified as 'severely overweight', Denmark is still the EU country with the fewest adults in that category, DR Nyheder reports.
This comes hot on the heels of another WHO report on child obesity published in May, where Denmark was also near the bottom.
Move it, groove it
Danes should not rest on their laurels, though. The same tendency towards more and more people becoming overweight can also be seen here.
"Fundamentally, the problem is that we don't move around enough," said Morten Grønbæk, the head of the government health institute Statens Institut for Folkesundhed.
"Generally speaking we are living more unhealthily than we did 5-10 years ago," added Grønbæk.
He ain't heavy …
When it comes to Body Mass Index (BMI), a measurement of body fat based on a person's weight relative to their height, 19.7 percent of the Danish population have a score of over 30, which qualifies them as being 'severely overweight' or obese.
Sweden has more, with 20.6 percent, whilst the UK comes in second to last just in front of Malta (28.9) with 27.8 percent in this category.
---
Minister wants answers on 'ghost nets'
Eva Kjer Hansen, the minister for fisheries, equality and Nordic co-operation,  would like to get an idea of how many 'ghost nets' exist on the Danish seabed, reports DR Nyheder. 'Ghost nets' are fishing lines, trawls or crab traps that have been lost overboard, and they are problematical because they can still catch and kill fish despite being on the seabed. EU figures reveal that 27 percent of the rubbish found in EU waters is comprised of lost fishing equipment.
READ ALSO: Denmark warned of the perils of 'ghost nets' in the sea
Danish fishermen are supposed to report lost fishing lines by mail or phone to the Fiskeristyrelsen fishing authority. However, in 2017 there were no cases reported and only seven registered lost equipment in their electronic logbooks the fishing authority also has access to. "We need to investigate whether the problem is more serious than the impression given by the electronic logbooks," said the minister. "We intend to look at some of the areas that there could be problems such as the Skagerrak, or around Bornholm," added Hansen.
Free aerial photo database available
As of yesterday, a database of aerial photos taken at different angles of houses and streets across Denmark has been made freely available to all. Comprising 1.3 million pictures, the database can be found at skraafoto.kortforsyningen.dk. Denmark is the first country in the world that has made this type of material available free of charge. Unlike services such as Apple Maps that concentrate on big cities and tourist attractions, the database covers every inch of Denmark. "Nationwide aerial photos can be a valuable tool for a number of different agencies in the public sector, but they also have great potential for use in the private sector," said Lars Christian Lilleholt, the minster of energy, utilities and climate.
Josephin Fock to leave politics
One of the founder members of the Alternativet party, its finance spokesperson Josephine Fock, is leaving politics to take a job at the refugee organisation Dansk Flygtningehjælp. From November 1 she will be the new head of integration for the organisation. "After long and serious consideration I've decided to leave one dream job for another," Fock said. "It has been a difficult decision because I'm so proud of having been one of the people who started Alternativet and deciding on the current party policy that involved putting Uffe [Elbæk] as a prime ministerial candidate," she added.