News
Denmark in spotlight over non-compliance with anti-corruption measures
---
This article is more than 5 years old.
Danes pride themselves on being one of the least corrupt countries in the world, but the Council of Europe thinks they could do a lot better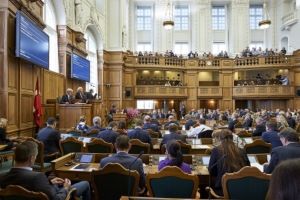 A report from the Council of Europe anti-corruption experts GRECO should make uneasy reading in Danish government circles. The organisation has castigated Denmark for not taking sufficient measures to prevent corruption.
There are a number of areas that GRECO has focused on including insufficient measures to prevent corruption with respect to members of parliament and the judiciary. Furthermore, GRECO concludes that Denmark has only satisfactorily implemented one out of six recommendations issued more than four years ago.
MPs business interests
In practical terms, the organisation wants Denmark to establish a code of conduct that is actually used, effectively enforced and applied amongst parliamentarians. It should be complemented by practical measures such as training and counselling.
READ ALSO: Denmark falls down anti-corruption rankings
In addition, there is still no requirement for members of parliament to report conflicts of interest as and when they arise. These are key measures for the prevention of corruption in parliament that need to be put in place without delay.
In fact, Danish MPs are supposed to list their business interests on a publicly-accessible database, but due to constitutional laws surrounding the status of MPs there is no legal sanction on those who don't. They are merely listed as not having done so.
As regards the judiciary, its code of ethics still needs to be accompanied by practical guidance. This is essential to clarify the standards expected of judges, including in practical situations.
Free press a safeguard
However, the speaker of the Danish Parliament, Pia Kjærsgaard, is dismissive of the criticism.
"I can't see a problem in Denmark. We are highest on the [anti-corruption] list of all the Scandinavian countries. I don't think the criticism is fair," she told BT.
She went on to argue that "our system is based on trust between the elected representatives and the electorate, and we have a free and independent press, and that ensures that there is no corruption in Denmark."