News
Poll reveals opposition to citizenship for devout Muslims
---
This article is more than 5 years old.
The constitutionally-guaranteed freedom of religion is increasingly coming under threat in Denmark if a new opinion poll is to be believed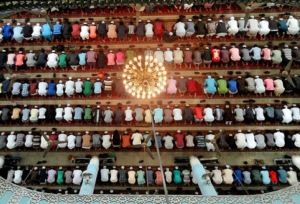 Amongst the causes closest to the heart of the Nye Borgelige right-wing nationalist party is a desire that immigration policy should be toughened up even more than it is today.
One of the measures the party advocates is the idea that devout, practising Muslims should not be able to obtain Danish citizenship.
READ ALSO: Politician condemns trebling of "welcome tax" to obtain a Danish citizenship
And it seems as if the suggestion is falling on fertile ground. A newly-published opinion poll carried out by YouGov for BT reveals that 16 percent of Danes agree with the premise 'completely' and another 11 percent 'partly' agree, reports BT Metro.
Turning a blind eye
Johannes Adersen, an associate professor in political science at Aalborg University, points out that "if you really believe this, then religious freedom is under pressure, but a lot of people seem to think this is so important an issue that you can turn a blind eye to the rules."
As well as not wanting devout Muslims to obtain citizenship, 45 percent would also like to see it revoked in cases when a person has transgressed the criminal code. The same trend can be seen with regards to expulsion, regarding which 44 percent think that people should be expelled from Denmark if they are convicted of a crime – even though they have Danish citizenship.
A matter of semantics
Pernille Vermund, the head of Nye Borgelige, is pleased with the results of the poll. She rejects the idea it is impossible to reconcile the constitutional right to religious freedom with the idea it ought to be impossible for devout Muslims to become citizens.
READ ALSO: Tougher demands for Danish citizenship on the horizon
"If you look at those countries where a large proportion of the population are devout Muslims – not secular or moderate – you can see it's a society we ought not to emulate," said Vermund.
"Four out of ten Muslims living here think that the constitution ought to be built up around the Koran's teachings. If you think that, then you are not being true to the Danish welfare system, which you have to swear allegiance to when you become a Danish citizen," added Vermund.
However, there is still hope for those with a more liberal outlook. The poll also reveals that 38 percent reject the notion totally, and another 13 percent 'partly' disagree with it.