News
Rise in pensioner weddings bucks national trend
---
This article is more than 5 years old.
Just because you're old it doesn't mean to say that life is all over and you have to live like a hermit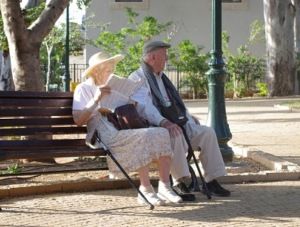 More widows and widowers – as well as singles who never got round to it for whatever reason – are choosing to pair up for their twilight years and plight their troth, either in churches or registry offices.
A study reported in the pensioners' newsletter Faglige Seniorers Nyhedsbrev reveals that in the last 10 years the number of weddings amongst people over 60 has risen by 43 percent.
During the same time period the number of weddings among the population at large has fallen by 27 percent.
READ ALSO: The irresistible allure of the older man
Vicar and lecturer Michael Brautsch believes that it is now more acceptable for older people to get married. "It is not so much of a taboo anymore – either to be divorced or to enter into a second or maybe third marriage," he said.
New norms
Another reason could be that societal norms have changed, both for elderly people and their children.
"This generation is used to the idea of getting married and they don't have as many divorces amongst them as the younger generation," said marriage councillor and author Ingrid Ann Watson.
"In their eyes it is much more natural that when two people are fond of each other, they move in together and get married," she added.
Better sex
Watson points out that people nowadays are healthier, live longer and have active lives that they want to share with another person.
Older people are also better at saying what they mean and not just letting a partner guess what they want.
"Sex can also be better because older people have more experience," added Watson.