News
Local News in Brief: Copenhagen's pedestrianisation continues unabated
---
This article is more than 5 years old.
In another news, there's clearly no end to the Copenhagen gang shootings either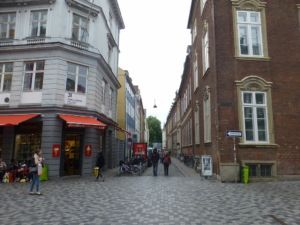 The addition of two more city centre streets, Løvstræde and Valkendorfsgade, to Copenhagen's huge pedestrianised network has been approved by City Hall.
The roads are located between Købmagergade, which links the Strøget main walking street to Nørreport Station, and Niels Hemmingsen Gade.
Loss of 20 parking spaces
The roads will accordingly be refurbished, with the city centre set to lose 20 parking spaces as a result,
Work will commence in the spring of 2019 and is expected to last three to four months.
---
Accused of negligence in daughter's brain damage and boyfriend's death
A 41-year-old woman stands accused of gross negligence in an ongoing trial at Copenhagen City Court. During a party at her home, her daughter's 14-year-old boyfriend died and her daughter, also 14, suffered brain damage after they ingested a drug or medicine found in the woman's bathroom. The woman allegedly prevented guests from calling for emergency assistance and even dealt with a police visit when the teenagers were already unconscious. Guests took the dying boy down to the street, where they called for help. A judgment is expected on October 1.
Municipality criticised for fining mentally-impaired home movers
Copenhagen Municipality has been criticised for handing out fines to mentally-impaired people who forget to inform City Hall of a change of address within the two-week time limit. Last year, the municipality issued 7,170 fines of 1,000 kroner to late informers, but now it emerges that a fair number had dementia or another mental illness.
Third night of shootings in Greater  Copenhagen – this time in Glostrup
Yet another man what shot last night – this time in Glostrup in the main square – making it the third consecutive evening on which the capital region has had at least one shooting. Shortly after midnight in Glostrup Torv, a 30-year-old man sustained at least one wound to the thigh, according to the local police, and his situation is not critical. The police are looking for the driver of a silver-grey car. A burnt-out car meeting that description was later found in north Zealand.
Man unhurt and unavailable after jumping into elephant enclosure
A man escaped unharmed after jumping into the elephant enclosure at Copenhagen Zoo last night at around 19:00. A man present recorded the incident on his phone and sent the video to TV2 News, telling the station that the elephants looked "furious", adding that it was "miraculous" he survived. The police were called, but by the time they arrived the man had disappeared into the night.
Woman warns cat owners after her Siberian moggy is shot in capital suburb
A woman in Farum, a suburb in the northeast of Greater Copenhagen, has taken to Facebook to alert her neighbours to a triple shooting: of her beloved Siberian cat Pushkin. The poor moggy has been hit three times by airgun pellets near the Farum woman's home on Ingeniørvænget in the north of the suburb. One left a 9 cm trail through the cat's body, narrowly missing its heart.
Four more Loyal to Familia members arrested – this time in Zealand
Four people were arrested at Nivå Centret in south Zealand on Thursday evening and charged with contravening the government's new legislation on gangs. They are specifically charged with being members of the Loyal to Familia gang, which the government has banned. In early September, five men were arrested in Frederica in Jutland and similarly charged. If found guilty, they could face up to two years in prison.