News
Danish-based opposition group hails Iranian military parade attack as ''heroic''
---
This article is more than 5 years old.
Diplomatic tensions between Denmark and Iran are increasing as the Iranian government claims an organisation with ties to Denmark is responsible for the attack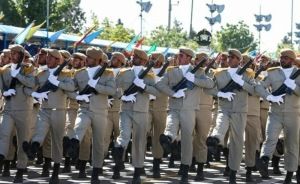 The Iranian authorities have claimed the Arab Struggle Movement for the Liberation of Ahwaz (ASMLA), an Iranian opposition group with ties to asylum-seekers in Denmark, was responsible for the armed attack at an military parade in the southwest of the Middle Eastern country that killed 25 people on Saturday.
Yacoub al-Tostari*, a spokesperson for the group who is an asylum-seeker in Denmark, told media on Saturday that the attack was "heroic''.
Nevertheless, he distanced himself and the organisation from the act itself.
"We are only the political branch of the Ahwaz National Resistance movement (ANR) – we are responsible for media management,'' al-Tostari told DR.
"We have no knowledge of the details or anything to do with planning … we simply convey what happened and why.''
ASMLA is an opposition group that has been consistently butting heads with the government in the southwestern city of Ahvaz, where the attack took place, in an attempt to gain further autonomy and even independence.
Diplomatic tensions
Iranian Foreign Ministry spokesperson Bahram Qasemi condemned the attacks, stating: "It is unacceptable these terrorist organisations are not persecuted in the EU as long as they are not committing attacks in the EU.''
And the Danish foreign minister, Andreas Samuelsen, told DR that the Danish authorities have begun to investigate the allegations: "If the allegations that there is a terrorist organisation with ties to Denmark turn out to be true, there will obviously be consequences.''
Søren Espersen, the foreign affairs spokesperson for Dansk Folkeparti, took a more aggressive stance, suggesting that the authorities should hand over asylum-seekers if there was enough evidence.
Reasoned response from academic
However, Rasmus Christian Elling, an associate professor at the University of Copenhagen, advised caution, particularly as it is uncertain who was responsible. An ASMLA statement has already denied responsibility for the bloody attack.
"It should be emphasised that the terrorist group Islamic State has also been blamed alongside ASMLA," said Elling. "There is still a lot of doubt about who is responsible; we don't know anything concrete about the attackers.''
According to Elling, there also other factors to consider before taking action.
"Trade between the two nations has been hampered by the US decision to withdraw from the nuclear agreement, forcing sanctions to be reintroduced," he said.
"Thus, it is hard to imagine how the Iranians retaliate in response to the Danes choosing not to comply with their requests. It is unlikely that this will lead to a diplomatic crisis.''
---
*Yaqoub Al-Tostari is a pseudonym