News
Local News in Brief: Fun and frivolity before the fragile and faint-hearted
---
This article is more than 5 years old.
In other news, F1 might not be coming to Copenhagen, but a new female urinal is on its way to Roskilde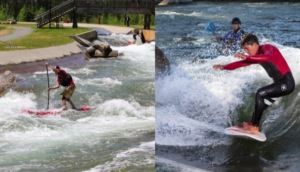 Journalists can wait their whole career for a story that juxtaposes the rich and the poor, the wet and the wild, and the young and the old.
So imagine the joy of TV2 when it stumbled across how Dragør Municipality is preparing to shut down a kindergarten and disappoint pensioners so it can secure badly needed funds … to build a waterpark.
The irony that the country's smallest municipality, which is based on the Copenhagen island of Amager and therefore pretty much surrounded by water, doesn't really need a waterpark has not been lost on TV2.
White water rafting in Dragør 
Closing the kindergarten will save the municipality 415,000 kroner in 2019 and one million in 2020 and beyond, while it intends to cut 800,000 kroner in 2019 and 1.2 million in 2020 and beyond from homecare.
Meanwhile, 3.5 million kroner has been made available for the Copenhagen White Water Park project, which will cost a total of 55 million kroner.
The park will offer visitors the chance to try rafting, stand-up paddling, river surfing, riverboarding, canoeing and kayaking, and it could open as early in 2021.
The municipality will formally confirm its budget on October 4.
New urinal for women unveiled at fair
A new pink urinal designed for women, which has been christened the 'LaPee', was on display at today's TechBBQ technology fair at Øksnehallen in Vesterbro. "It was clear to us at Roskilde Festival that it is really problematic for women to pee at outdoor events," explained one of its two designers, Alexander Egebjerg, to TV2. Egebjerg and his French co-desginer, Gina Perier, are in talks with Roskilde about introducing it next summer. "It's got to be better than sitting behind a fence or a bush," he said.
Thousands protest against city decision to forget about F1 race
Nearly 18,000 people have already signed a petition to protest against an apparent decision by City Hall to drop its interest in Copenhagen hosting a Formula 1 grand prix in the near future. Mayor Frank Jensen admitted that he was against the idea on Friday and had advised several ministers to forget about the plans, which would have seen the capital host a street circuit race like Monaco and Singapore in 2020 or 2021.
Motorist sustains gunfire on motorway to Copenhagen 
A car was hit by bullets on a motorway near Roskilde last night, shortly after 01:00. A 39-year-old man was travelling on the motorway to Copenhagen between exits 12 and 13, when his vehicle sustained three shots, although more were fired, according to the local police force, reports TV2. It is believed that more than one car might have fired the shots. Furthermore, the victim has the impression that he might have antagonised the motorists who shot at his car.
Copenhagen Police still looking for horses
Copenhagen Police is still looking for horses, despite receiving a great many responses after appealing to the public a week ago. It is looking for horses that would feel comfortable with a rider in close proximity to people. The horses would first need to undergo police and veterinarian tests before taking part in a four-week trial. Preferably the horses should be aged 5-10, be 167-175 cm tall, and be quiet, stable and brave.