News
Police arrest "a man from 1987" after two pedestrians are hit on city pavement
---
This article is more than 5 years old.
Meanwhile, another shooting takes the tally to 11 in 11 nights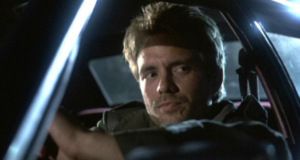 The police have already apprehended a man who they believe ran through a red light, crashed into a taxi and then hit two men walking on the pavement on Gothersgade near Kongens Nytorv in central Copenhagen.
After the accident shortly before 22:00, the driver abandoned his BMW and ran off into the night.
A manhunt was launched as the area was heavily cordoned off, and the suspect was picked up in Vestegnen in the west of Greater Copenhagen at around 03:00 this morning.
Peculiar description
The police, or maybe the American police, are well known for using a lot of number codes in their jargon, or maybe chief executive Henrik Stormer's comments were the result of his unfamiliarity with speaking directly to the media or his love of time-travel films.
"We have arrested a man in Vestegnen and we are talking about a man from 1987," he said.
According to the police, the two men hit by the car aren't badly injured and were just random passers-by in a part of town popular with nightlife revellers.
Shooting #11 in gang Civil War
Meanwhile, last night there was yet another Greater Copenhagen shooting – this time in the city district of Nordvest.
A man was hit – the ninth victim in eleven days, and eleventh shooting – in the vicinity of Skaffervej, Frederiksborgvej and Rentemestervej. It is unknown whether he is badly injured.
Nordvest along with Nørrebro is the home territory of the Brothas gang, which is believed to be fighting a civil war with a faction now based in Greve and Hundige, which are near Ishøj.