News
Danish News in Brief: Institutions short of qualified personnel, union charges
---
This article is more than 5 years old.
In other stories, young people defy cancer warnings over solariums, antibiotic use in agriculture is falling and Netflix is the most popular Danish streaming service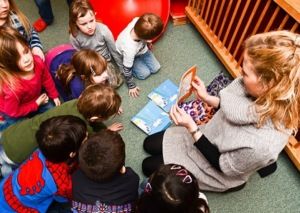 New figures from the national statistics keeper Danmarks Statistik reveal that in some municipalities, less than half the staff employed in kindergartens and crèches are qualified pedagogues.
There are also big differences from municipality to municipality, with the numbers varying from 41 to 71 percent. The institutions in an average municipality have a pedagogue percentage of 57 percent.
Far from optimal
The trade union for pedagogues, BUPL, recommends that in order for children to thrive optimally in institutions, there should be at least 80 percent of the staff who are qualified pedagogues. None of the Danish municipalities reach this level.
In addition, only a few live up to the BUPL-recommended staffing levels of at least 1 employee to 3 children in a crèche and 1 employee to every 6 kindergarten children.
When it comes to low ratios on Zealand, Hørsholm and Hillerød score badly at 43 and 49 percent respectively, whereas Gladsaxe has a ratio of 62 percent. Billund in Jutland scores best of all, with 72 percent.
---
Solarium users defy dangers
For some time now it has been no secret that extensive solarium use can cause skin cancer and that the younger a person is who uses the solarium, the more damage they could suffer. A new survey carried out by the cancer organisation Kræftens Bekæmpelse and TrygFond reveals that although 6 out of 10 users know that they risk cancer, they are willing to take the risk to get a cheap tan.
"Young people live for the moment and they gamble more with their health to get a good suntan," said Peter Dalum, head of the awareness campaign Solkampagnen. In Denmark, malignant melanomas are the most widespread form of cancer amongst 15-34-year-olds. When young people get this form of cancer before they turn 30, in 3 out of 4 cases it is caused by solarium use.
A new campaign launched yesterday aims to focus on just how dangerous it can be to use a solarium. The hope is that young people will give it extra thought before they lie on a sunbed under artificial UV rays.
Keep the noise down, we're trying to sleep
There's nothing more annoying than being woken up in the middle of the night by the deafening roar of a powerful motorcycle or sports car. Denmark's ecological council Det Økologiske Råd has decided to do something about it and has put forward proposals that if adopted, would allow municipalities to designate 'quiet zones' with decibel caps for vehicles. Within these zones from 2020, it would be illegal for the noise level of motor vehicles to exceed 80 decibels from 22:00-06:00 and from 2023, this would be supplemented by a noise level ban on vehicles of 85 decibels from 06:00 to 22:00. The rules would be enforced by the use of microphones and cameras on lampposts, supplemented by road sign warnings. The police would enforce the regulations and fines would be imposed on people flouting the ban.
Antibiotic use in agriculture down
The results of the yearly DANMAP survey conducted by Statens Serum Institut and the Technical University of Denmark's veterinary institute and national food institute reveal that the amount of antibiotics given to farm animals fell during 2017 for the fourth year running. In figures, 3 percent (or 3.4 tons) less antibiotics found its way into animals in 2017 than the year before. From 2013-2017 usage had fallen by around 14 percent, which corresponds to 16 tons. The reduction has especially been seen in pig production, where the number of doses has fallen by 4 percent from last year. Since 2010 a 'yellow card' system has been in place in Denmark that obliges pig farmers who overstep the current antibiotic norms to reduce usage.
Netflix is Denmark's favourite
According to a new survey carried out by Mikonomi.dk, Netflix is the streaming service most favoured by Danes. In compiling the list the survey used parameters such as price, content and customer satisfaction. At the bottom of the table is Blockbuster, which was criticised for having sky-high prices and for being a disappointing customer experience.